In the modern digital era, the Outsourcing and Remote process has become quite a popular option for business growth. Almost all the industrial verticals have been acknowledging the significant growth of digital technology. Not all industries have full fledge knowledge in the process involved in the development of a website, software, or mobile app. For example, a company based on the hospitality industry or retail business lacks the appropriate resources in website development or software development, or maintaining the IT infrastructure. Outsourcing such tasks to the software development team are the biggest decision in the modern-day.
Considering the best Software Outsourcing India for your business, digitalization is one of the major factors. Software development outsourcing definitely proves to be one of the most significant options for the business to improve the standard. In the modern-day, Outsourcing offers limitless aspects, and it is also unavailable with the C-level executives. With the growth of the internet facilities, it is quite a convenient option for easily improving the software project and helps to find the right talented executives for Outsourcing of the software development projects.
Outsourcing in the modern-day also has been emphasized as the buzzword for many numbers of industries in decades. Outsourcing is also called 'Outside Resourcing' becomes accepted undoubtedly universally. No matter what kind of software provider, it is important to leverage customer satisfaction with fulfilling the complete project in time.
What Is A Software Development Outsourcing?
Software Development Outsourcing is the process of hiring a software development outsourcing company for developing suitable software with appropriate resources. The outsourced team also improves the cash flow by increasing efficiency. It also mainly allows us to extensively scale up or down the needs of hiring the team. In the current financial crisis, most companies struggle to survive in the growing competition, so it is important to ensure that you choose the professionals for the task. Choosing the reliable Software Development Outsourcing Company that meets the fast-approaching deadlines is one of the biggest decisions.
Finding expert developers in a short time is one of the most important aspects. The professional team would definitely keep your development moving forward with attaining the maximum success to the end. Amid the recent crisis, maintaining an in-house team for software development is quite a difficult situation, and it is less cost-effective.
Lack of in-house experience

Flexibility

Focused Strategy

Time Savings

Improved Compliance

Reduced time to market

Technological Advances
Key Statistics On Outsourcing:
More than 60 million freelance workers found in the US

90% of organizations have been considering to improve Outsourcing with new Cloud Technology

IT and Accounting tasks have been widely outsourced in the SME sector

IT outsourcing market internationally would grow by $98 Billion by 2024

BPO (Business Processing Outsourcing) would reach more than $405.6 Billion by 2027

More than half of companies have been using 3rd party companies for providing customer support

Outsourcing IT functions helps to focus on core business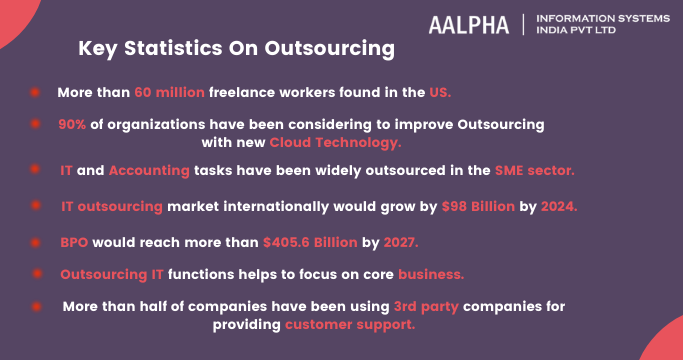 The Global Outsourcing Market Size Reached More Than $92.5 Billion:
Outsourcing becomes a hot trend ever since 1989. Since then, the Outsourcing of business tasks such as software development has become one of the global trends and an integral part of the business. Gig Economy has been flourishing In 2020 and has been completely overtaken by modern industries.
Based on statistics, Global outsourcing revenue becomes highly improvised with attaining $104.6 billion in 2014, and it has been lowered after the next 2 years. In 2020, the latest outsourcing statistics state that there is a higher rise in the Outsourcing Software Development with making the market stabilization.
In The US, More Than 300,000 Jobs Have Been Outsourced Every Year:
According to the US outsourcing statistics, 86% of American companies have been outsourcing and gained major revenue to the highest level. It also plays an important role when there is a strong economic crisis.
More Than 90% Of Organizations Are Opting For Cloud Services:
Outsourcing has taken the company's growth to the next new levels. With the advancement in cloud technology, it is quite an easier option for staying connected with clients. With the rapidly expanding of the new and existing markets, it is a much more significant option for gaining more features. About one-third of the organizations have been opting for decreasing the operating costs and outsource their task to other companies.
Another Statistic on IT outsourcing states that 45% of outsourcing businesses have been worrying about the safety of the cloud-based service.
Use Of Outsourcing Suppliers Has Attained 44% Higher Than That Of Five Years Ago:
Based on the recent offshoring statistics, it states that more number of the IT sector has been moving forward for easily outsourcing their supplies and saving more time in the process. The report is stating that 70% of technology functions used in the outsourced offshore have been used in software application development. More than 49% of the technology that the executives use outsources applications as well as software maintenance.
Saving Money With Outsourcing IT:
By completely reducing the number of resources on the core business, it is quite a significant option for easily outsourcing the IT functions. About 49% of the cost-saving is a prominent choice with following the Outsourcing of software development to other companies. Most of the companies that outsource the IT functions have been stating that the primary motivation for Outsourcing is for the resources and saving money.
The Financial Services Outsourcing Market Reached More Than $130 Billion Worldwide.
Based on the outsourcing statistics in the U.S., Outsourcing in the financial services market has been greatly increased to the highest annual point of 7.5%. Many banks, as well as other financial institutions, have been increased with the reliant aspects for creating more benefits. Data management, along with the core business processes, has been greatly increased by making the simple Outsourcing of the project.
Business Process Outsourcing (BPO) market size will highly increase with $405.6 billion by 2027, and this rise could mainly cover 8.0% CAGR.
About 71% In The Financial Companies Have Been Outsourcing The Services:
Most financial companies have started to outsource software development projects due to the lack of in-house skills and resources. More than 80% of the transportation and retail firms have also been considering this technique for saving their time with Outsourcing. Other statistics state more pharmaceutical companies have been using this strategy.
About 83% Of Financial Companies Implement Outsourcing For Robotic Process Automation:
Robotic process automation becomes one of the most important aspects of the modern-day. Outsourcing statistics states that automation is accelerating with the HR and invoice processing sectors. Moreover, outsourcing was dropped by 11.9% in 2017 for 9.4% of the IT budgets in 2018. Outsourcing was highly increased to 12.7% in 2019.
In most of the IT security and Datacenter, operations state that there is a great reduction in Outsourcing for the last 2 years. A 6% decrease has been compared for the past years, and this drop has been caused for small and medium business have been turning towards Cloud technology. It also mainly eliminates the maintenance of the internal IT infrastructure.
Another recent study states that the percentage of IT budget spent on Outsourcing mainly has increased even up to 15%. It would automatically increase the number of small businesses for preparing the extensive recession. Based on the global IT outsourcing market has been growing by $98 Billion from 2020 to 2024. It also raises 5% of the total CAGR.
Since 2001, About 654,000 Californians Lost Their Jobs To China:
When looking at the statistics, California has lost more jobs since its Outsourcing to China.  California is considered the home of most US tech giants. More than 3.7 million jobs in the United States have also been lost to China since 2001. About 1.3 million in IT and electronics manufacturing have been outsourced in the modern-day.
Why Choose To Outsource?
Outsourcing software development services in the modern-day offers more benefits than you could have ever imagined. The outsourced team world definitely brings a better global perspective with massive resources. Normally, the outsourced team would have worked on different projects along with getting major experience in dealing with business demands, clients, and countries. Global experience would definitely gain a more fresh view on all the projects to the extent. The most important fact is the majority of Outsourcing has been in the location of Middle-East, Eastern Europe, and Latin America. Among which Eastern Europe has been one of the most attractive outsourcing destinations that most of the companies choose due to the-
High level of professionalism

Attention to detail

Better Accuracy

Low costs

Shared mentality with Western countries
Advantage of software outsourcing: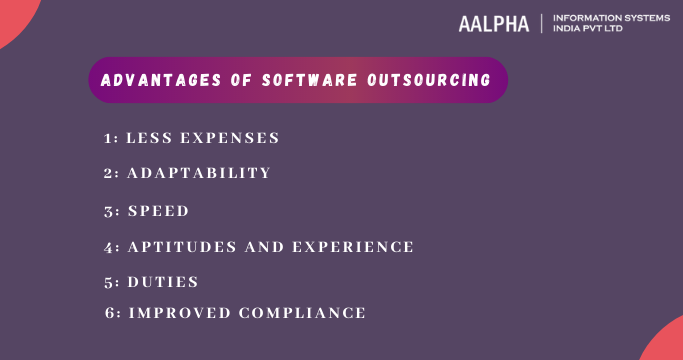 Less Expenses
Perhaps the greatest advantage of outsourcing is likely expenses. This doesn't mean you are coming up short on individuals or hurrying work. The distinction in compensations across the globe is the sole motivation behind why outsourcing can save you millions, or billions of dollars. Instead of paying $50 in the US you can hire someone else who can do a similar measure of work, with a similar quality, and in a similar amount of time, for $20. This isn't deceptive in any capacity as various nations have various expenses of living, and you are paying your outsourced representatives their ordinary compensation, if not higher. 
Adaptability 
At the point when you outsource, you don't need to invest energy to enlist, train, and house your representatives for projects. You likewise don't need to stress over scaling your workers in the event that your work size changes work-to-work. Perhaps the best thing about outsourcing your product is to discover the ability that fits impeccably for the position, yet without putting into a stable situation. 
Speed 
Outsourcing your IT activities can diminish your chance to-showcase significantly. This should be possible significantly quicker in the event that you are multi-sourcing, where you split your undertaking into discrete cycles and utilize numerous outsiders to regulate particular errands. Your outsourcing partners can likewise cooperate with you nonstop to ensure that every one of your items is doing speed and can be conveyed with minimal measure of time. 
Aptitudes and experience 
As an organization or a company you simply cannot be particular about a specific angle at all. For example, IoT, Machine Learning, or web application development. In any case, outsourcing your product development project ensures that your product is inacceptable hands. 
Outsourcing organizations have had some expertise in a specific region and they ensure that the outcomes are up to acceptable quality, since their standing depends on the achievement of their ventures. Programming outsourcing designers additionally have more involvement in managing an assortment of undertakings, which prompts adaptability in their insight and they can adjust to various errands simpler. 
Duties 
The bigger the size of your business, the more duties you need to deal with. Now and again, it tends to be exceptionally overpowering, particularly to screen assignments that are not in your skill. Outsourcing your product can ensure that your undertaking is inacceptable hands. 
Most IT outsourcing organizations have long stretches of involvement in dealing with various IT projects, creating diverse programming, and they are focused on giving the best IT answers for organizations of all scales. This can drop some weight from your chest realizing that somebody fit is taking care of your issues. 
Improved Compliance 
By outsourcing your product development, you access worldwide abilities without the legitimate consistency that most organizations should experience from recruiting workers. Your outsourcing organization can deal with all the legitimate administrative work and customs so you can zero in on different things that issue.
Disadvantages of software outsourcing: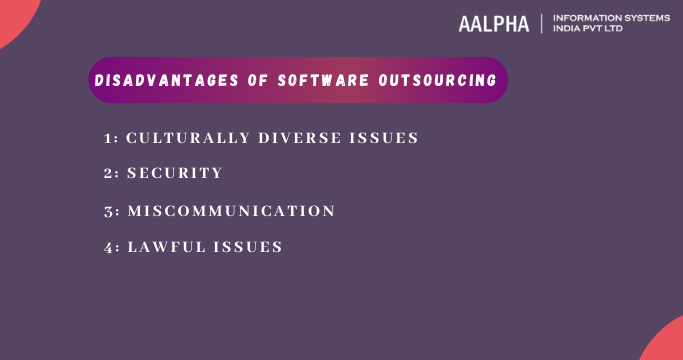 Culturally diverse issues
Regardless of whether the time has come zone, language obstruction, or social distinction, it is justifiable that offshoring your business will make certain issues, particularly the topographical distance for best correspondence. This issue deteriorates if the primary business is additionally situated in a non-English talking nation, as finding an outsourcing organization that can impart in another dialect other than English is harder. Beneficial thing is, most expert outsourcing organizations are conversant in English and are adaptable with time-region prerequisites. 
Trading data makes the dangers of security and legitimacy. Outsourcing in itself is now an unsafe advance, as it intends to surrender control to another organization. The initial step before outsourcing your product is to take a gander at the outsourcing organization intently, and not simply fully trusting their words. You can alleviate chances for your business by picking an outsourcing firm that has a great task for the board framework and a reliable cycle for creating applications. 
A decent marker of an outsourcing organization with great security is their working principles, for example, ISO 27001 for data security. It is likewise imperative to check what part of the business the affirmation covers and who did the accreditation for the best outcome. 
Because of the consistent trade-in correspondence and potential boundaries, for example, language and geology, loss of data are normal when you rethink your ventures. This can be diminished significantly in any case, by twofold or triple checking all the data and cycles. It is likewise the outsourcing organization's duty to ensure that their item is up to assumption and first class. The two sides need to act quickly if something appears to be off or anomalous. 
Laws are distinctive relying upon the nation where the organization dwells. You need to ensure that you comprehend the nation's laws for where you are offshoring to, and the other way around. There are likewise worldwide exchanging laws that you need to observe and the time it takes to determine any question between the two organizations will be any longer contrasted with public cases. To have a smooth activity, organizations need to ensure the groups mindful of the distinction in the overall set of laws and devise an administration intend to manage it; having an in-house legitimate group is a major addition. 
As should be obvious, even though product outsourcing has its disadvantages, its advantages far exceed the dangers, and the presence of programming outsourcing is imperative to remain serious on the lookout, for time, expenses, and quality. Next, we will experience the most well-known fantasies about outsourcing and clarify every one of them in subtleties. 
Software development outsourcing myths: 
Software outsourcing implies low quality:
This is an unpleasant legend. Indeed, programming outsourcing can be a lot less expensive, however, that doesn't mean bad quality. Less expensive is near here – in the event that you are moving to a nation where pay rates are a lot lower, you are saving the cost contrast between the two nations' living wages.
Does this mean they are investing less energy in the item? No. Does this mean their workers are less capable and gifted? Likewise no. More often than not, they are more prepared to do certain things which prompts better quality also. Particularly IT outsourcing where it is fundamental that the group chipping away at the undertaking is in the know regarding the most recent innovation and patterns. Like Ryan Khan, Founder of The Hired Group has stated, "Expert your qualities, reevaluate your shortcomings".
Software outsourcing is for organizations to reduce expenses:
Indeed, programming outsourcing is an incredible method to reduce expenses. That, notwithstanding, doesn't mean reducing expenses is the sole explanation behind outsourcing. Another main explanation behind organizations to re-appropriate their product is the time it takes to convey the item. All business chiefs realize that time rises to cash.
To remain at the top, it is fundamental to a reaction to the requests and patterns of your shoppers. You can't sit around and be outdated, that is a single direction pass to disappointment. It requires some investment to enlist and prepare a gathering of ability to deal with your product undertaking, and outsourcing may very well be the best answer for every one of your necessities.
Software outsourcing bargains your protection and security:
Before sharing any data concerning your undertaking, privacy concurs ought to be composed and endorsed by the two players, which legitimately ties the at least two gatherings not to reveal certain data. These are normally known as an NDA or nondisclosure understanding. This should cover the discipline for penetration of classification, or infringement of privacy, which is the unapproved exposure of the private data.
More often than not, it is the end of work and agreement between the two gatherings, alongside a heavy fine for the liable party. On the off chance that the harms can be determined, the blameworthy party might be answerable for the aggregate of the misfortune, if not more. That is the reason, to ensure that the protection and security of your venture are guaranteed, you need to consistently make a point to sign a legitimate NDA and ensure that your outsourcing accomplice has a dependable endorsement, for example, the ISO 27001.
Programming outsourcing is a momentary arrangement:
A few people accept that outsourcing is a short response to a long inquiry. This is truth be told, false. Clearly, a few organizations go to outsourcing because of their absence of staff and information, and keeping in mind that outsourcing, they do develop their own in-house division to deal with on-going undertakings that are being rethought.
Nonetheless, different organizations have picked programming outsourcing as a lasting arrangement. They are assembling seaward programming advancement focuses that are in agreement with them for a very long time, or for all time. Over the long haul, programming outsourcing gives you more opportunities and assets for your nonstop development.
Programming outsourcing lessens your command over your undertakings:
In the event that you are a CEO, and your representatives are chipping away at your undertaking and taking your information, does that mean you let completely go over your venture? Something very similar applies to programming outsourcing. Taking the remaining task at hand outside of the organization doesn't mean you will lose any power over your item. You simply need to ensure you have a severe rule, clear and realistic KPIs, and common comprehension among you and your accomplice. Muddled achievements are the most exceedingly terrible thing to have when you attempt to deal with any task, inward or outside.
Whenever you have cleared your questions concerning outsourcing fantasies and are prepared to reevaluate your first venture, the following thing you should consider is the place where you ought to re-appropriate your product to.
Below are the reasons to outsource the software development
Expertise:
Whether your business is based on hospitality, retail, or any other, it is based on your own niche. When your niche does not deal with developing the software system, then it would be quite important to ensure software development. Choosing the best Software Outsourcing India having good expertise would be quite a significant option for extensively saving more time. Cost-saving is also considered as the most important advantage of choosing software development outsourcing.
Cost-Saving Achieved:
India, the Philippines, and many other countries are considered as the major offshore outsourcing destinations in the world for providing a lower cost compared to western countries such as the USA. This mainly influences more number if businesses to easily choose these destinations for gaining the complete cost of software development. When you have plans for hiring the best software development company, then choosing from these countries is the best choice. Outsourcing software development definitely reduces the costs for the
Employee maintenance

IT infrastructure

Licensed software toolkits
Better Access To Talented Developers:
Outsourcing software development is mainly involved with the complete aspects of saving your time. Getting access to the top software developers is one of the prominent options for getting a reliable result. Now you have a better option to easily choose from a wide pool of qualified and experienced software developers.
Talented software developers mainly assure of providing complete projects on-time and get access to current technology. Software developers mainly assure in adding a skill set with all kinds of technological advancements. When your niche is based on a particular development framework, then you could choose the software developers accordingly. It is quite a significant choice for getting a reliable output to the extent. Choosing the leading IT outsourcing companies with a market share of 55% is quite recommended.
Focus On Core Business:
A company with an in-house team working on the same premises would definitely make the core objective of the business diverted. Having an in-house team for software development also takes more resources, skills, cost, and especially time. This would also get you away from the core business activities.
With utilizing the offshore Outsourcing of software development for your business, it is quite a significant option for extensively getting uninterrupted services. Outsourcing makes it possible for extensively focusing on the core business.
Leverage Every Hour Of The Day:
When you have the in-house development team for your company, then you could spend more resources on the extracts. Therefore, choosing to outsource software development mainly involves the better aspects of extensively saving more time. You would definitely get a good return on investment with getting maximum benefits on the turnover.
High Flexibility:
One of the important reasons for choosing software development outsourcing is to bring added flexibility with the software developers. Therefore, it is quite a significant option for extensively saving your time. Software developers have higher resources as they have experience in working on different projects. In case you have the in-house team, then you could have been spending more time and unnecessarily on the maintenance even after the software development.
Outsourcing software development especially is helpful for enterprises to easily gain more advantage from software developers. Offshore Outsourcing adds better convenience to getting help from more developers for your project.
Gain Infrastructure:
Some organizations have adequate IT infrastructure for supporting the enterprise's operations. However, it is also important to have an infrastructure based on
Hardware

Network

Bandwidth

Technology

Software development kits
These infrastructures are quite important for developing a better software solution to extensive aspects. This would definitely improve your mode of service to the extensive aspects.
Meet The Experts In Software Development:
When you do not have appropriately skilled personals in the software development team, then it would be quite a difficult option for gaining major success. Hiring the staff with the core competencies also adds a specific niche. Choosing the top outsourcing team would definitely give you more advantages for extensively gaining more resources, and it is an efficient option for saving your time to the extent.
In-House Development Vs. Software Development Outsourcing:
Choosing between the in-house and Outsourcing of software development is quite a difficult process. This varies based on terminology, location, and many others. Custom software development is the normally layered process with providing a suitable option for gaining either Outsourcing or in-house development.
In-house development is a tried-and-tested option, and Outsourcing is quite trendy nowadays. Outsourcing has been projected to reach a revenue of more than $220 Billion in 2020. It also plays a huge role in modern business growth to the extent. In-house development normally uses the varied resources that are mainly available in hand. In this process, you need to have the appropriate software engineering team for hiring as well as onboarding your own employees.
One of the biggest draws of in-house development is that you need to control the complete team for developing the project. It takes more time to extensively decreasing the upfront costs.  It is also quite important to communicate with all of them directly and make sure that everyone is suitable for the project.
In-house development is also quite an expensive solution, mainly due to the recruitment process, so most of the companies opt for outsourcing aspects. Outsourcing software development is mainly involved in reaching out to a potential talent pool when compared to its counterpart.
Check: In-house Development or Outsourcing
Need For Software Development Outsourcing:
Outsourcing software development is mainly involved with the commissioning of the individuals or team for handling all kinds of workloads. In the modern-day, most companies have been opting for this new technique for easily saving their money. When you are dealing with freelance contractors, there is no need to give any kind of employment terms along with the in-house team. There is no need to completely scale down or up as this process would not reduce the cash flow or the brand image.
Most businesses understand the value of Outsourcing offers the most amazing and unlimited potentials. It is quite a significant option for extensively hiring the outsourcing software development India for easily gaining better aspects. It is more convenient to get a high-end team of a graphic designer when you outsource. Get prominent results with outsourcing software development based on your niche. Outsourcing also mainly gives you maximum access to top-notch design experts.
In fact, there is also no need to maintain a similar level of control on the outsourced team when compared to the in-house development team. By simply paying a smaller amount of money, it is easier to get the complete project in professional aspects.
Also read: website development costs
Types of Software Development Outsourcing:
Normally, there are various types of Software development outsourcing based on the location of the company.
Local Outsourcing is the process of hiring the company in your own city. This process offers greater convenience in meeting the team. Therefore, it is quite easier to easily gaining more reliable benefits and getting constant updates from them. However, it could also be expensive sometimes.
Hiring software developers from your own country is called Onshore Outsourcing. This would definitely give you more advantages such as cultural compatibilities and Time Zone. Choosing the right company based on its standard is quite an important option.
Nearshore Outsourcing is the process of hiring the software development team from the company located in neighboring countries. In fact, it also gives you the major advantage of the Time Zone and it is the cheaper option comparing to the others. It definitely offers a great variety of talent to easily choose from. This would also make communication much easier.
Offshore Outsourcing is the process of hiring a company from other countries or continents with different Time Zone. This process also offers the most astounding cost-saving advantage. When you are considering Offshoring, then the distance is not an important factor.
Based on a recent survey conducted, more than 40% of the chief financial officers (CFOs) in the companies have been outsourcing their projects; it saves more budget requirements along with many other advantages. When you have decided to outsource the software development, it is best to go for either Offshoring or Nearshoring.
Takeaways:
When choosing between in-house development and Outsourcing, it largely depends on the needs of both. Most of the companies prefer to choose Outsourcing as one of the most significant options as it would definitely cut down on time and costs. This would also definitely give the best option for consulting the pool of talented developers on software development.
Result Driven Development

Agile development processes

High-Performance Software Engineering

State-of-the-art infrastructure 

Secure IP Creation

Unmatched expertise in emerging technologies

Personalized approach 

Flexible engagement models

Negligible Operational Overheads

Reliable Technology Partners
Outsourcing Software Development In 2023:
Normally, the Outsourcing software development processes involve the complete reducing your burden of having in-house employees. Most of the enterprises mainly take this as one of the advanced options when dealing with the IT sector. This also made the complete task much easier with the constant development of software. Outsourcing software development to 3rd parties definitely makes the enterprise work on deciding the faster pace extensively. Some of the most significant aspects of outsourcing software development services include
Access to expert Employees

Better Quality of Software

Cost and Time-Efficient

Focus on other Business Processes
Cost And Time-Efficient – Software outsourcing is cost-efficient and saves more time. Normally, the custom software development company works within the time limit without overdoing the costs.
Access To Expert Designers – Most web development company would hire only experienced with great skills. Employees definitely have a greater stronghold over other areas of work. Now you have the better option for simply accessing the expert designer to the extent. All the developers are very much trained in all activities and have relevant skills in handling all the heavy tasks.
Focusing On Business Processes – There is also a simple enterprise that does not deal with IT and software. When choosing to outsource software development, then it would be quite an innovative option for getting your problem solved. It increases their productivity in all business processes.
Use of Quality Software – The professional developers would extensively use the best product for developing your project. Relying on the experts would definitely give you suitable options for QA (Quality Assurance) teams. It also gives suitable measures on establishing outsourcing development.
Types of Software Development Outsourcing Models:
Choosing the company for Software development outsourcing is one of the better aspects for easily saving your time. However, it is important to be familiar with the various outsourcing models available. It also allows you to provide the appropriate way of matching your needs. Normally, there are three different types of models that includes
The enterprise and development team especially agrees with the project for fixed cost and time limit. The fixed-price model is mainly involved in a completely new way of developing the project. When the client requires the New requirement from the developers, then it would be re-evaluated in terms of price as well as time. Most of the companies mainly prefer to use this outsourcing model as it is quite easier option for getting the precise and effective project requirement to the highest level.
Also read: Outsourcing pricing model
Sometimes, the client does not have a clear idea about the way of defining the project requirement. Therefore, the software development company mainly establishes this model for providing a suitable project. Clients would be given only the required materials as well as manpower with the customizable option. The client is only required to pay based on the utilization of resources. It is also considered the most amazing option when clients develop the trial before full-fledged software.
Dedicated Team And Resources Model:
When all the projects from the client are successful, then the client could also be interested in hiring experts in software development. In this model, it is also quite an efficient option for outsourcing the company to extensively assign the team of development experts to easily treat as remotely. This model is also mainly recommended when the developers are dedicated to handling all the tasks with creating more successful aspects.
Common Mistakes Most Companies Make During Outsourcing: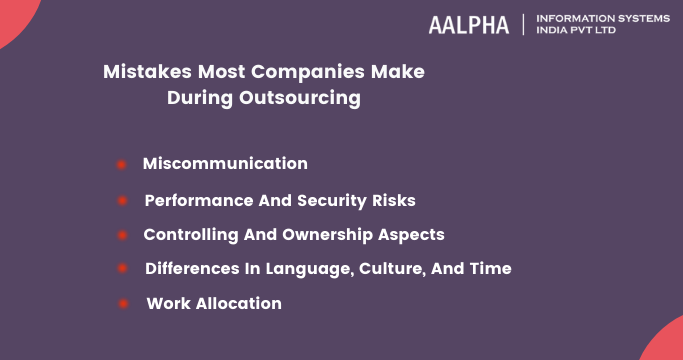 When Outsourcing does not provide the preferred results, then it could also result in a failed communication process. Communication plays an important role in increasing the success rate of the project. Communication is also the most important aspect which will empower software development. Eliminating the equation does not clarify the doubts. Miscommunication may lead to the
No follow-ups

No feedbacks

Not communicate

Not clarifying details of the project

Performance And Security Risks:
Most of the enterprise considers that it is the biggest concern of security comprises while hiring the software development company. Sometimes, the outcome also does not lead to the success rate that includes extended deadlines, poor quality software, and much more. Conducting a thorough background check in the company mainly gives you a better option for easily saving more time. Double-checking on the feedback, reviews as well as portfolios could be helpful for getting the complete source on choosing the most professionals and safe software developers while Outsourcing.
Controlling And Ownership Aspects:
Most of the enterprise mainly undergoes misconception that they could lose control of the ownership or process involved in software development. When you partner with an experienced and professional company, there could be zero options for misconception. Choosing the right company that especially promises you complete engagement and transparency in the process is quite important.
Differences In Language, Culture, And Time:
Hiring a custom software development company, it is important to check on the varied difference in culture, language, lack of communication, and time. These things definitely increase the difficulty in managing the project. Based on a recent study that states more than 65% of the project failure is due to the differences in language, time, and cultural communication. There are also other problems mainly leading to the miscommunication that includes  
Failed deadlines

Quality compromise

Lack of motivation

Hidden costs

Work Allocation:
It is quite a good option for extensively outsource the development task as it would ultimately save a lot of time to excellence. Choosing the best website development company with all the technical expertise and offshore collaboration is quite important. Checking the list of benefits that you would reap with setting the maximum priorities along with acknowledging parts of the project also leads to failure. To avoid the chances of failure, knowing about the difference between the in-house and offshore Outsourcing of the projects is quite important.
The Better Way To Gain Maximum Success When Outsourcing:
Before outsourcing your project, it is quite important to be precise about defining the project requirements. Below are some of the important aspects that you need to concentrate on that includes
Understand the objective of the offshore collaboration

Define project requirements

Prep for project

Guide your extended team

Track your progress

Be flexible

Have an exit plan

Don't expect too much from others.
These are the most important factors that you need to be aware of when you enter into the Offshore software development phase. Creating connected applications with cloud technology and gives much more flexibility to access from anywhere. Cloud could be connected with the enterprise environment along with other interconnected devices for directly streaming business operations.
With choosing the best website development company for ensuring the complete outsourcing needs, staff could also unknowingly sell the working efficiency to the software Development Company autonomously. It would mainly entail the complete aspects of working on projects and focuses on running the business. Now you have better freedom for working under any kind of supervision from higher officials.
For ensuring the complete effective results of the project, it is quite important to contact the team regularly.

Getting the regular updates

Manage the development of the product

Motivate the team

Provide the team with valuable feedback

Strengthen your relationship with your team
Upon strengthening your relationship with the team, it is quite an efficient option for motivating them with constant feedback. You can simply make a video conferencing, Mail, or call then for avoiding any kind of miscommunication. It also gives you complete instructions about the team leading to more success rate.
Tracking project progress is one of the most important options for achieving a realistic and measurable goal. It would also definitely give the complete aspects for
Scheduling your project

Setting the right goals.

Motivating with your milestones
Tracking the progress in the project according to the appropriate results made by the team is quite important. Setting the right time frame for the team to help the project improve is one of the most important aspects that you need to be aware of. This also mainly avoids the complexity of giving much confidence in various development approaches. Setting an extensive timeline with discussing all the processes involved with an offshore software development company is considered as one of the biggest priorities. It would also provide a better way of the achievable and standardized features.
Outsourcing the software development project could sometimes be overrated. However, it is necessary to understand the important scope of the project for attaining a better success rate to the highest level. Maintaining the balance with the developers is one of the important aspects of reducing an error in projects. This is a great way of easily tackling the unseen problems along with the additional expenses.
Before choosing the best software development project, it is important to prepare for flexible aspects. Making responsive changes, along with an appropriate exit plan, is one of the most important aspects.
Sometimes, Outsourcing the project could be overrated, but it is important to execute the complete process. You would definitely reap more benefits in conveniently outsourcing the project. However, it is important to consider that you must not have more hope for the outsourcing company. This is considered a process-driven operation, and no developer is perfect in developing precisely based on your requirement. When you get the 'okay-ish' product at the end based on the requirement, you can emphasize the developer to improve by suggesting the right feedback.
Having the best contingency and realistic plan, even from the beginning, is quite an important aspect of gaining maximum results. It also gives you more change for planning extensively for easily surprising something much better way.
Who Can Outsource?
No matter what business niche you have, Software development outsourcing is almost for everyone. Having a good software solution for accomplishing your project is quite important. Whether you are a startup, small or medium-sized business, seeking the professional and top outsourcing experts gives you the most admirable results.
Delivering the best software solution at reasonable costs at the prominent time limit would definitely give you a suitable solution. In the modern-day, more experts have been investing money and partnering with the outsourcing company to save their time. It also gives the better option for easily gaining a better level of results to the maximum.  
Functions Of Outsourced IT Companies:
Choosing the best company offering software development outsourcing services at the most reasonable price is quite important. Software developments suitable for various categories include
Desktop software

Enterprise software solutions

Websites and web applications
Normally, the Outsourced company needs to hire in order to maintain better efficiency over time. Proper maintaining of the software development will lead to
Assessment

Constant Value Addition

Modification

Upgrading
In the maintenance of software development, the ultimate goal is to completely improve the performance level of the software. Based on the platform the software has been built, it would be completely visible to a greater number of audiences. In the fast-changing technology, it is important to provide higher performance software for the clients.
Conclusion:
With more necessity in bringing instant information across other industries from across the world, most of the businesses are looking for an efficient way of finding faster software development solutions. Outsourcing statistics also states that there is a split between large corporations and small businesses with emerging technologies. There has been a wide improvement in Robotic and Cloud automation; it is important to ensure to run in a smooth direction with developing the best software solution. Since the exchange of information is about to increase in the modern-day, outsourcing your project and concentrating on core business compliance is one of the unique options.
If you are looking to outsource software development then Aalpha is the right choice.
Also check: outsourcing app development cost