Outsourcing is any role in your business that you do outside of your business premises. Generally, outsourcing means using external resources or getting help from the outside of the organization. Globally outsourcing is seen as a viable solution to many operational issues in small or big companies. There are many big companies that outsource their businesses such as Apple, Nike, HP, Google, and many others. With all the good reasons to outsource, saving cost is the core reason for companies outsourcing their business operations.
India is one of the oldest and most established outsourcing destinations in the world. India has been in the outsourcing game for a long time. They are the original big outsourcing destination in the world. Started years ago with call centers but now they are doing tonnes of software and application development.
Although labor is very cheap in India as compared to the U.S, the U.K, Canada, And Australia. Moreover, the skills of human capital are relevantly acceptable. According to the KPMG organizations prefer India to outsource their work than any other country. India is very good at outsourcing IT services. It has talented manpower and skilled IT professionals with low labor costs. This is why big companies like Dell, HP, Oracle, ATT wireless, etc. have outsourced their several business processes with Indian outsourcing firms.
Benefits of Outsourcing to India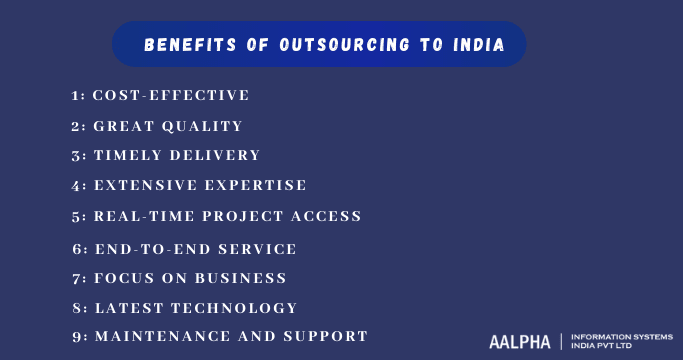 It is evident that the cost of business operations and retaining a worker for the longer term is getting expensive day by day. One of the biggest benefits of outsourcing application development in India is that you save a lot of money on designing and developing a professional application.
In comparison with the U.S, Canada, Australia, and other European countries there is a huge income gap between them and India. For instance, you won't have to pay for expenses like equipment cost, training & development, software license, hiring costs, and IT architecture costs. Hiring a developer in-house in developed countries is very expensive. Taking advantage of the rate per resource in India, companies can save significantly on their operating costs without cutting the corners by outsourcing their development projects in India.
Furthermore, you do not have to worry about huge salaries, sick leaves, paid leaves, insurance, and healthcare that are eating your profit each month. Outsourcing a software development team from India is the best option because you only pay for the agreed service fee.
Also check: web application development cost
One of the reasons organizations outsources software development team is to improve the software product's overall quality. Sometimes, the project is vast, yet the establishment has fewer IT staff working on it. In such a case, if you don't take precautions, the members might work hurriedly and produce a low-quality product. They skip some essential stages trying to beat the deadline. Instead of letting your staff operate under pressure and end up producing poor products, you can consider outsourcing more teams from India to execute some tasks.
The team will ensure they follow the required workflow without skipping any steps to produce a high-quality product. Besides, teams from India ensure they test every stage to ensure they are moving in the right direction. Again, outsourced teams from India have diverse knowledge, combining great ideas to create the best product.
In the business of web or mobile development, time is everything. There is a huge rise in demand for mobile and web application development now more than ever. In this high-tech world, you cannot afford to delay the launch of your mobile app idea. So, you need a well-experienced mobile app development company that can develop a mobile app for you within the required timeframe. So that you can launch your product before your competitors do.
Clients from the U.S and European countries usually get a time-zone advantage which is the major factor why companies are outsourcing in India. With abundant available resources and the development of a project with a flexible capacity of 24/7 work, gold shines day and night every day. They go to bed in the night and see their requirement fulfilled the next morning by the offshore development team. Thus clients from the U.S and other European countries share their business requirements with Indian development outsourcing companies. Whether it's the busiest time of the year for your business or you are just catching up with the pace of the market, you can have the benefit of a maximum number of resources available as per the need of the hour.
Developing an app requires a thorough knowledge of the latest tools and technologies across various multiple platforms. It takes a lot of time and money to find someone who is a skilled and trained IT professional. And even if you find one in developed countries they are very expensive to hire and retain.
The majority of the Indian population is young people with an average being of 27 years and the biggest in demographics of talented and skilled people with roughly 3 million graduates adding to their workforce every year. They have more English speakers than the U.S and United Kingdom combined.
Furthermore, India is the largest pool of trained IT professionals and follows a proven development process. Quality assurance processes of software development are observed at every step of the development. Hiring a third-party app development partner from India ensures that your app is being built by certified engineers and experts you can trust upon. they can immediately provide solutions to your bug-free, fast, efficient, and easy-to-use development projects.
Moreover, outsourcing your development project can significantly cut your recruitment and training costs.
Access to a Large Talent Pool
Despite your project's complexity, you will always find top talents to handle your project effectively from India. There are top talents from India who have advanced knowledge in machine learning. .NET. JavaScript, among other relevant skills required in the tech field. Besides, teams from India will offer comprehensive advice on how you can improve your product in terms of UX and UI. Why strain when software development teams from India can handle your project effectively? However, you should ensure you hire the right partner to get all these done.
Real-time access to your project proves to be very useful especially while traveling. It is very crucial from your end to monitor your project. Outsourcing companies in India have a good reputation. They keep you updated with each and every phase of the development and provide you access to all your work documents, to-do lists, project delivery dates. Application builds help you track your application development phase so that nothing goes wrong throughout the process. You can hold regular meetings with them for inputs regarding the project progress and in order to implement changes in case any required.
if you are looking for outsourcing Web and Mobile App development, there are a lot of partner companies available in India for your projects that provide a complete solution to your business needs at the best pricing policy. They offer high-class quality development services and are experts in the proper implementation of frameworks, coding, user experience, and seamless user interface. They also provide end-to-end mobile and web application solutions to clients across the globe.
The in-house development of an application comes with a lot of complexities and problems. You will have to dedicate a lot of your time to managing the project team and developing a successful project. It also diverts your focus from other important business operations. This could result in not meeting the other key performance indicators like making an effective marketing strategy for the product. Thus, your company lags behind.
Outsourcing your app development to a professional app development company in India solve all this nightmare for you. It will buy you more free time to pay attention to other main functions of your business.
India has many companies that will take full responsibility for your development project and lets you focus on your marketing strategies to promote your product before its out available for the customers. Good product offerings and effective marketing will result in success that will lead to growth in the organization.
The ideas of tomorrow won't keep you in the market today. That is why it is very important to invest in the latest technology and trends to serve better and stay ahead in the market. With the blooming IT Sector across the globe arose the competition enormously, this led companies in India to feel the pressure and urge to have a specialization in every part of this sector. Today India has a state-of-the-art communication infrastructure, fiber optic network, cellular networks, satellite connectivity, IoT in telecom, as well as software and web development. Every company in India, especially in the IT sector, keeps itself abreast with the latest technology and tools needed to outperform. And they keep themselves updated and learn new ways to perform better every single year.
Whether you talk about native app development, cross-platform app development, wearable or IoT app development, migrating your app to a different technology will have the experts you are looking for with better tools, the latest SDK, and vigorous testing.
When you outsource your development in India, you are most likely to receive the latest features and configuration that meets the demands of the market. Solutions are customized as per your need. This saves you time and money.
Once the project is completed, companies are faced with yet another big challenge of its maintenance and providing support to users. whether it's a change in business need or a change in the taste of preference of the customer, it is very important for the business to maintain and transform the application if and when required. It enhances the life of the application and builds a good relationship with the customers.
Many outsourcing software development companies in India nowadays offer maintenance and after support in order to keep associated with their clients. The benefits of outsourcing maintenance and support in India are huge. Especially if the application was built by the same company. As they understand the architecture of the application and can easily define the requirements for enhancement. They have a dedicated support team whose job is to deliver the desired support in the shortest possible time frame. Outsourcing maintenance and support allows the company as well as the customer to be worry-free by ensuring the application is up to date according to the current environment and all of its features and functions are performing efficiently. This will save you a significant amount of time, cost, and value.
Now that you know why you need to outsource software development teams from India, how do you choose the right team? The following approaches will help you select the right partner to work with:
Good reviews from previous clients
Number of projects accomplished
The tech portfolio
Number of recurring clients
Types of projects accomplished
Industry specialization.
Conclusion
When it comes to outsourcing IT projects, India has the upper hand with its 60 percent of revenue coming from the export of IT services which contributes to about 7.2 percent of the country's GDP.
If application development is not your core competency, and you want to thrive in this segment of IT, then India is the best country for you to outsource your IT projects. It will free you some time, money, and energy, ensuring you of world-class development solutions at the same time.
Outsourcing web or mobile applications has helped a lot in various leading and small companies in achieving success and accomplishing their major objective. Partnering with outsourcing companies also creates a new milestone as it opens up a new learning environment to upscale the business every day. Outsourcing your application development in India will also free you from worrying about investment in people. Moreover, the technology, infrastructure, project complexity, support, maintenance, and everything else that comes along with it. Because all of these nightmares will be borne by your outsourcing company.
Any queries about outsourcing software development? Feel free to contact us today.
Also check: hire software developer India