In recent years, the world of B2B business has been growing and expanding significantly. This means that the industry is set to outshine the B2C market in the future. According to the latest trends, B2B e-commerce has never experienced a slow down because, according to statistics, the United States made $ 969 B in the year 2017. However, in the year 2018, the sales increased to $ 1 trillion, making a 17% increase in previous transactions. According to Forrester studies, the value is expected to rise even higher in the coming years. By 2028, The global B2B e-commerce market value is anticipated to reach USD 25.65 trillion.
Many potential business organizations are going after B2B e-commerce due to the introduction of digital marketing. The reason behind B2B preference is the fact that it creates solutions and open transparency in business transactions.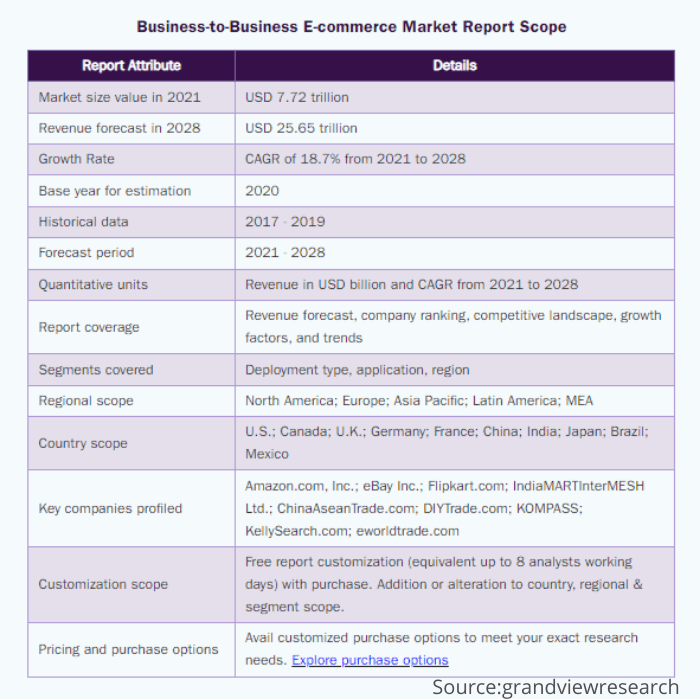 The number of suppliers benefiting from B2B is still limited, even though most of the businesses are moving towards digital transformation. Nonetheless, the reason for this is because they are still trying and adapting to the habits of users online. Above all, they are analyzing what users expect.
Most of the companies using B2B view digital commerce as a perfect income chance that they are not into it completely. If you are an entrepreneur and you look forward to using B2B e-commerce for your wholesale channel, then you are on the best decision. Some of the benefits you will reap from a B2B marketing strategy include the following:
Read: Difference between b2b and b2c in eCommerce
Benefits of B2B e-commerce
B2B will give you analysis for a good business insight
When you have PIM, ERP, CRM, and Procurement business software put together, and you can analyze complete views about different forms of businesses. This helps you get an immediate perception of all the drawbacks of businesses and help you make a critical decision on how to run your business with ease. Statistics show that those who move into digital transformation for their businesses create more revenue, high profits, and improved market evaluation.
Highlighted below are some of the factors that can help to improve analytics via branding:
Augmenting the B2B e-commerce for mobile
Creating a strong brand that aims at retaining a regular customer base apart from selling the products to strengthen the bond with your customers.
Regular communication with clients to update them through social media platforms
Use of attractive graphics, catchy content, characters, and online gateways to improve user experience. 
Maintain the constant Customers
The dream of every business is to attract new potential customers. However, nothing beats the feeling of retaining old customers in a company. Past customers build a strong foundation for any type of business. When new customers join, you're the existing customers, and it only implies that your business is set or great.
Order Repeat Products for Consistent Customers
You can make the work easier for regular customers to keep purchasing from you. You simply come up with a customer profile based on CLV- customer lifetime value and NVP- network promoter score. Through the profiles, you can analyze the repeat of purchases and the activities of the consistent customers. The patterns will enable you to know the needs and preferences of the customers and identify possible issues. The moment you understand the needs of your customers and solve the existing problems, your business will grow and generate more profits because of fulfilling the needs of the customers. As a result, you will have attracted the attention of the customer, meaning you become their favorite supplier.
The benefits of consistent customers are that it saves both the customer's time and your time. This is because the business can use the chance to introduce a service such as a continuous subscription. With the e-commerce platform, the customers can purchase items and re-purchase without necessarily having to connect with a representative.
The Quick Order Fulfillment Process
B2B sellers have a chance to perform the order fulfillment process quite faster and with ease on an online platform. This possible because it offers the latest cloud-based e-commerce platform for the processing to be done and keeping records of the stock.
The cloud-based e-commerce platform has created an inbuilt management system, known as an order management system- OMS. The system helps suppliers to work with all the parties involved as an interrelated system that makes work easier to fulfill the entire process successfully.
The order management system works swiftly with other digital platform software that helps in minimizing technical issues related to the process of placing an order and monitoring the stock. This improves customer experience by delivering the services and orders on time. Now, B2B sellers can assure a transparent, faster, and exact delivery to B2B users. Let us take an example below.
One of the great cloud-based e-commerce systems, TradeGecko, gives room for B2B e-commerce wholesalers and general businesses to monitor the stock, orders placed, and actions of the customers. This implies that the entire supply chain is monitored closely from a single cohesive platform.
B2B gives Customer-based Support
According to the Salesforce study, at least 74% of B2B-(Business-to-business) customers and 63% of B2C-business-to-consumers) pay extra costs for the more significant experience.
This means that businesses stand a high chance of uplifting their revenue by improving customer experience. Failure to improve the experience of the customers might be the onset of a business downfall because most of the loyal customers will shift to another business with an improved customer experience.
We are living in an era where most customers research a given product or service before deciding to buy them. With B2B e-commerce, customers have access to a self-service portal that shows product descriptions, history of the orders, the delivery options, the shipping and handling process, and reviews from different customers. This makes work easier for customers because they get plenty of information at once.
B2B e-commerce platform has a customization feature that enables business owners to customize the storefronts on how the products are displayed concerning the needs of customers.
B2B e-commerce business has interactive functionality, rich content, and intuitive design features that help in improving the user experience for both B2B customers and retail customers.
Finally, with the B2B e-commerce website development, you can get access to the information regarding the transactions of each customer. As a result, B2B gives a new experience and support system to its customers.
You can reach target customers anywhere at any given time
The purpose of a business is to reach as many customers as possible. B2B has been in existence for over 20 years now though it wasn't perfect enough to fulfill the objective of attracting many customers. Nonetheless, technological advancements have made it possible to attract a good number of customers.
The setup of B2B e-commerce makes it possible for B2B buyers to locate and reach potential B2B buyers globally at any time. You also gain access to product descriptions, new business stores, divisions, and even geographies courtesy of the B2B e-commerce website. Such services were never there initially, but thanks to technology, things are better now.
When your product is well-described on an online platform, you can reach thousands of potential customers at the same time.  Many people perform their activities like purchasing goods or services online. You only need to study and understand the importance of search engine optimization. Take advantage of SEO and reach out to your targeted customers. If you are using a B2B business and you assume you are not reaching your customers well, there is something you are doing wrong; poor use of search engine optimization. Just ensure your website is well-indexed by Google to allocate new visitors. Once done, engage the visitors and make them your potential customers.
Enhanced efficiencies
The ERP- enterprise resource planning and other business systems have made it possible for e-commerce to make B2B establishments bearable and improve the services at large.
The targeted user audience can freely order online at any given time despite their localities. There are minimal errors related to the order and shipment process. This means that goods and services are delivered to customers as planned without facing technical difficulties, thereby making a B2B e-commerce platform efficient.
Check: multi-vendor marketplace development
Conclusion
The use of B2B e-commerce has brought a positive approach to online marketing. It provides ways of how to catch the attention of new customers, maintaining the customers, and making them frequent visitors to your business.
Many businesses are undergoing a digital transformation, which means that B2B buyers are moving towards the use of online platforms more than before to take advantage of the benefits that come with digital transformation. Even as you engage in the B2B e-commerce website, remember to create an online market that improves and fulfills the needs of the customers. Let the customer get satisfaction from your brand and remember to reply to their needs and requirements.
Transforming your business digitally and embracing B2B e-commerce will improve your brand and create a good relationship with your targeted audience. It is an interactive site where you get to learn many business aspects and understand your customers better. It is a strategy that will uplift your business to greater heights.
Any queries about B2B eCommerce website development? Feel free to contact us today!
Also check: b2b b2c website differences | cost to hire eCommerce developers