Many businesses out here have varied technological needs to meet. The diversity in software development is currently unheard of. If there is some sought of diverse software development, then it is to a minimalized extent. Most of the software now on the market meets specific user needs; thus, off-the-shelf software products are currently inefficient and inadequate. With this diverse software development mode's dying nature, most companies are gradually going for software customized to suit their needs. We can therefore define this kind of software as custom software.
You may be questioning why custom software and how it influences business. How does it differ from the vendor off-the-shelf software form of development? In understanding why you need to go for a custom software development approach, it is essential to realize the advantages and the differences that come with software development. Nevertheless, before we venture into custom software development in detail, let us understand what custom software development calls for.
Custom Software Development
Consider a small company or organization that needs to undertake some activities or services specifically for the company.  In such a case, the company stakeholders may approach the development experts and share their exact needs and services. The development team will therefore resort to working on the project based on the specific requirement. The final product is a custom software product – it suits the needs of a particular company, individual, or organization. From the instance, we can consider custom software development to create custom software applications that meet a given organization's specific needs. In developing custom software, developers ensure to narrow down to the precise requirements of the end-users. It thus provides in-depth solutions to more specific problems.
On the other hand, the vendor-off-the-shelf software mode of development entails creating software products to cater to a collective audience's needs possessing similar requirements. Such products are not specific to any business, organization, or company. Therefore, most of the products may not be suitable enough fit businesses that employ more specificity.
The development of custom products is possible through a third party or an in-house development team. Developing a custom product often entails interactivity due to consistent changes that may arise throughout the development process. Having known what custom software development is, key questions remain, "Do you find custom development fit for you?" Why choose custom software development? Here are the advantages of custom software development:
Benefits of custom software development 
Some of the expected benefits of custom software development include: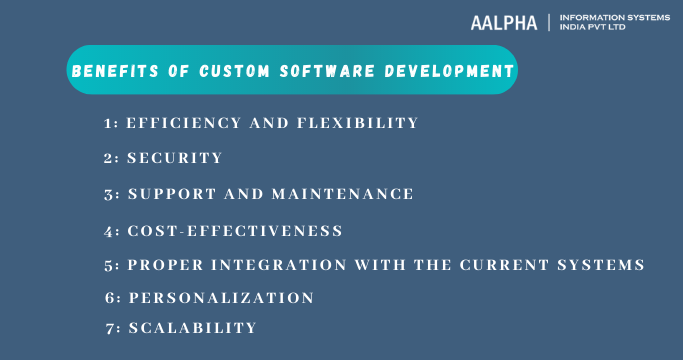 Efficiency and flexibility
One crucial benefit of this approach of development is the extended flexibility that comes with it. With this approach, you are the mastermind of what to include and what to omit during development. For instance, you can choose to have a feature depending on your desired needs or opt to exclude a component that may most likely fail to serve a crucial need. With the ease of flexibility, Dedicated programmers and developers can quickly institute changes whenever they arise. There is repetitive task automation with custom applications, and therefore, collaboration within the organization becomes much more manageable. Most organizations prefer custom software development because of increased efficiency and productivity.
Security is a top aspect of every organization. Since each organization wants to secure their customers and other members, most prefer software that is only suitable for a specific company. Usually, off-the-shelf software applications are a potential hot point for hackers and, therefore, the preference for custom software applications. Suppose hackers gain access to vendor-off-the-shelf applications; they may cause significant harm to a wide range of data from different companies. With custom development, you can also enjoy complete control over security or protocols included in the software.
Custom software development comes with great support and maintenance. Since a given team of development experts dedicate themselves to special custom software, the maintenance level is high. The technical support team can always provide reliable support and continued maintenance of the custom software product. With consistency in support and maintenance, there is an excellent possibility that users will enjoy a product that is reliable at all times. It is also essential to understand that it is easy to establish loopholes with this development type, hence increasing security. Above all, with custom software development, there are no worries on whether the software provider will cut off service provision or support for the product the business relies on.
One of the most outstanding establishments you need to make when developing a software product is cost. However, going for the software development approach that saves on your expenditure is crucial. Custom software development dramatically helps you save on cost, thus substantial long-term savings. The productivity and proficiency gains that result from custom software development always surpass the initial costs, which is an excellent profit for the company or organization involved. With custom development, you can easily prepare a development plan to ensure the entire development process runs smoothly. For instance, you can decide to work on the software's crucial features according to your budget. Therefore, there are no limitations in this mode of software development. You can also split the entire process into manageable phases and work on each accordingly. Working in stages also enables you to get feedback consistently and, in return, improve the software frequently.
Good read: custom software development cost
Proper integration with the current systems
Good software should at least integrate appropriately with most of the available systems. It is one of the remarkable features making custom software popular. There are no integration and compatibility issues with custom software development, thus more efficiency and increased productivity.  Most of the custom solutions properly fit into the existing system and can support the user-level capabilities. With such products, you can improve program functionality or even enhance the usage of the system.
It is always an advantage to enjoy a personalized experience when working with different software. With custom development, stakeholders can consider customizing their software to personalize the look and feel. It enables you to develop a system that meets all your business needs without limitations in certain areas. With the development approach, you can promote your brand's uniqueness, which is most likely a feature absent in other software development modes.
Among the most crucial characteristics of software is scalability. Luckily, custom software development provides scalability where software can scale up to accommodate the daily growing business needs. Since the business areas may increase, it is crucial to consider software that also grows with the business needs. However, software that cannot scale up to meet a business's growing needs may result in less productivity or can be useless at last.
Conclusion
Having gone through some of the advantages and metrics involved in custom software development, you may perhaps wonder whether to go for such an approach or not? Based on your software needs, you can establish whether custom software development is a perfect fit. Nevertheless, considering custom software development is a good take, especially when running a unique business or organization.
Some of the critical measures you should establish before choosing custom software development include the need for individual requirements not provided by off-the-shelf software products. Others include the inability to find software products that meet your specific requirements and the need for specific long-term goals. With specific long-term goals, you can approach a team of development experts, share your needs and get your work done to serve your unique needs. Therefore, it is crucial to consider this set of requirements and assess your needs before trying the custom software development approach.
If you are looking for custom software development then don't hesitate to contact us today. 
Also check: software outsourcing guide | agile software development