Ecommerce business is flourishing nowadays with the advancement of internet technologies. People prefer buying from online stores offering a huge variety of products rather than wasting time in travelling. This trend has also led to the introduction of various development platforms well-equipped with features and built-in functionalities which aid the developers in making amazing online ecommerce websites.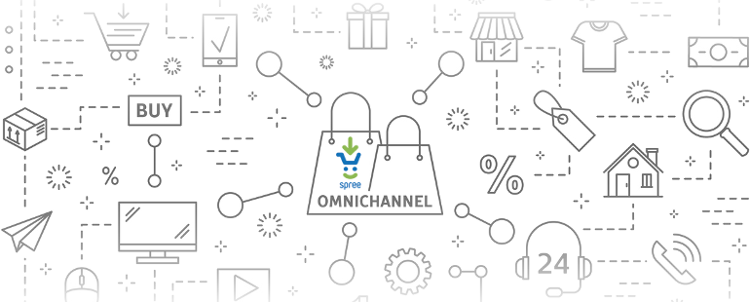 Choosing the right e-commerce storefront is a top priority for any business nowadays. When the time comes to choose an appropriate framework for your e-commerce website, it becomes a difficult task as there are many options available.
Spree Commerce is the highly advanced open-sourced, Ruby on Rails-based platform that is meant specifically for e-commerce websites. It paves the way for highly-customizable e-commerce websites such as online stores or marketplaces. It was created by the famous Sean Schofield in 2007 and since then the popularity of Spree Commerce has been growing fast and there are more than 740 contributors and is used by the number of developers for easily getting the full-fledged e-commerce platform to the maximum.
Spree Commerce is currently considered the most popular choice among store owners and retailers. Mainly because of its scalability and stability. It is highly extensible and flexible open-source e-commerce framework for developers for years. It uses one of the most effective coding systems that allows you to design and develop a unique and beautiful front-end and its API is driven development on the back-end enables business scalability and flexibility.
Also, it is based on the market proved customizable technology which is essential and well suited for any type of e-commerce applications. Due to its lean core functionality and hundreds of official and unofficial extensions, it allows rapid development, shorter time to market, and can easily be customized to a specific use case, industry or business model.
Spree Commerce Features
A few prominent features of this amazing platform are mentioned below
Spree Commerce contains a completely functional storefront module which covers most of the use cases associated with this feature and provides developers with a mobile friendly and responsive built in module.
The store front module can be easily customized and updated according to your brand requirements with the use of Angular, React or Vue.js frameworks.
The native mobile app dashboard support in also embedded in this amazing toolkit which is compatible to both Android and iOS operating systems commonly adapted by the developers.
The Bootstrap support of this amazing platform helps the developers in producing applications which are mobile friendly and the mobile first component library covers almost all the common functionalities required in an Ecommerce web-based application.
The progress front end of this platform can be customized easily by the developers and the frequent updates help you to keep it updated. Even a poor or weak mobile connection does not affect the efficiency and working of spree commerce platform.
The development time can also be minimized using this platform as it offers you an option for reusing code components for upgrading or maintenance of various requirements and features.
The elastic search combined within the Spree commerce development platform aids users in searching at a blasting speed no matter how many parallel users are accessing the URL.
The features also include an elastic search add-on feature which helps you sort out or filter product listings in an efficient manner.
The pages of an e-commerce webpage designed utilizing the Spree Commerce Web Development Platform also help add features which suggest products and services which match the preferences and interests of the users.
Other features include:
Personal relevance
Wish lists
Gift packaging
User's name and initials
Photos
Utilization of different payment methods
Support for different checkout options and procedures
Options for subscriptions through different supports
Convenience and high usability for the users
Omni channel capabilities
Local and international sales
Content and campaign management modules
Benefits of Spree Commerce Web Development Platform
Let's have a look at the key benefits of Spree Commerce to leverage for your e-commerce venture.
Large and Helpful Community
Spree Commerce is an open-source platform and is maintained by a huge community of volunteer developers, agencies, skilled engineers, and many contributors who work extensively and collaborate closely to actively develop the platform, add new functionality, create new extensions, release new versions, and solve challenges.
In addition, you can always turn to them for help by submitting a pull request or issues and the Spree core team will have your back to resolve any ongoing issues.
Another place where you can receive useful information from is the mailing list, annual Spree conference, free workshops, training, and GitHub pages of Spree Commerce. You can join the community and take advantage of Spree's expert recommendations if you have any problems with the application.
Spree Commerce also provides a complete set of documentation and user guide as well which are easily accessible, and extremely helpful to new businesses.
Easy Customization
One of the distinctive features of the Spree Commerce platforms is that it allows you to personalize the user experience by installing various customizations on your online store and can be adapted to the needs of businesses. Spree is mainly recommended for its high-end quality, scale, and flexibility and often becomes the preferred choice for e-commerce brands. You can always add a lot of new features and functionality or change the existing one however and whenever you want to your online store.
Spree is based on Ruby on Rails and is backed up by lots of extensions available in the community, both official as well as non-official written by the large community who use Spree. This offers greater flexibility and optimizes performance for developers as well as for users. Integrating these extensions during the development gains you access to the variety of community-developed tools written for Ruby on Rails. You can use these tools in your venture without any hassle to develop a project, which will help you create an e-commerce website exactly the way you want it to be, thanks to the intense customizability that spree can afford.
Mobile Friendly
Today, building an e-commerce website is only effective if it is mobile friendly. Due to the increase in the growth of shopping with smartphones and tablets throughout the year. It is estimated that 70 % of all online users use their smartphones to surf the internet. Therefore, it has become essential to optimize your online stores for smartphones and tablets.
Spree Commerce is mobile-friendly by default. This saves you time and money as you do not have to implement that feature from scratch.
Spree Commerce platform is the first mobile e-commerce development platform that has been widely tested for compatibility with any mobile device on any operating system. It is very responsive, and offer a quality experience on smartphones exactly as people do on a desktop. Using Spree, it is easy to implement responsive design elements and optimize the site for handheld devices considering the limited processing power, usability, and battery consumption of mobile devices. Using Spree, you can reach your customer's pocket with its high compatibility with mobile devices.
A Subset of Ruby on Rails
Another benefit of Spree is that it is written in Ruby on Rails which itself is very popular and noted for its reliability and stability. Ruby on Rails is an open-source development platform, so you get the benefit from both, the Spree community as well as the wider Ruby on Rails community. This also ensures that new features are added constantly by its community and are tested before being rolled out to the general public and if any bugs are found, they are immediately fixed.
Spree works well with extensions and ancillary code written in Ruby on Rails allowing you to create a highly personalized platform with increased e-commerce capabilities.
Unpatched vulnerabilities are common in other e-commerce platforms such as Magento and WooCommerce. Being a subset of Ruby on Rails, Spree has inherited security features like Ruby on Rails which comes with everything necessary to prevent SQL injections and XSS attacks. Spree development with Ruby on Rails background is, therefore, the best cost-efficient solution for boosting your productivity, sales, and revenue.
Highly Scalable
Another popular feature of Spree is its high scalability and it is mainly recommended for e-commerce websites for this feature. Scalability is the number of requests your application can handle in a given time period. Spree is an extremely robust framework and is capable of handling a huge amount of traffic without any interruption in the response time. It can support over 30,000 products with several industry-standard benchmarks. It has proven its ability to serve a large number of user's requests simultaneously with fast and easy access to the website thought volume-testing techniques. Therefore, an e-commerce storefront built on Spree Commerce can better handle a large amount of traffic than most paid development solutions or platforms.
Rapid Development
Another advantage of Spree Commerce is it is faster to develop. Using Spree, developers need to write 10 times less coding for development than they require in other platforms like Magento for building an e-commerce store. This saves a lot of time and cost. With more than 500 contributors of the community consistently adding new features and extensions and being a framework based on Ruby on Rails, it's blazingly fast to create an e-commerce website for the developers which results in a shorter time to market. Its implementation covers all the core functionalities for providing a better user experience of the e-commerce platform.
Spree Commerce is the perfect option, especially for the startups whose deadlines are tight and want a speedy development for their market space.
Easy Order Processing
Spree comes with far more supported payment gateways such as PayPal, Stripe, Braintree, eWay, Skrill, etc. right out of the box. Therefore, managing orders are easy with spree development as it can easily integrate with multiple payment gateways. The way the platforms are built, its dashboard offers additional features like a quick order management system, monitoring payment methods, and helps in the sorting of products in an efficient manner. Because of its super simple functionality for better control, it's one of the few truly enjoyable platforms to work with.
Free of Cost
Another important benefit of Spree Commerce is that it's totally free to download. Regardless of the size of the business, whether small or multinational, there is no license fee and you are free to use Spree for personal as well as commercial purposes.
Not only that Spree has no license fee but it also has a lot of free of cost extensions that support additional features like blogging and multi-domain support as well as a bunch of custom themes you can download and apply to any Spree Commerce-based website.
Conclusion
Spree Commerce is undoubtedly a robust and efficient e-commerce platform and has a lot of benefits for developing an e-commerce website. Its highlight includes high scalability, infinite customization, faster to develop, large community support, mobile-friendly, and much more. And you can get all these benefits free of cost. Whether you are a large-scale businessman, and want to make your e-commerce website equally effective, or an e-commerce beginner and want a cost-effective solution for your budget, Spree is definitely what you should go for.
With the team of professionals backed up by Ruby on Rails developers, Spree has already implemented and launched several successful e-commerce development projects. Its ability to integrate with multiple payment gateways enables easy as well as a fast payment management system. Its robust platform provides a world-class experience to your customers and you can quickly boost your sales to space when launching an online store with the Spree Commerce.