Apps have evolved to be an integral part of our everyday life. Our lives are simpler, healthier, and more relaxed, under their hands. All we desire can be accomplished in seconds using apps. Booking of fares over the internet has spared customers time and money. In the new scheme, customers do not have to go to the reservation station to book; instead, they can use the site and smartphone applications. Customers only need a tablet, mobile, or some other internet-capable system to purchase tickets will be used.
The Ticket booking app simplifies the process to a great extent. The following common practices are used to build effective online and smartphone reservation apps.
Research analysis 
Here we will begin this project. The developers consult with the target customer to determine the app's functionality. the most successful way to gather this kind of knowledge is by surveys and interviews People under the age of 35 and people above the age of 35 may be the target demographic for this campaign. Additionally, they may be such people as administrators, physicians, attorneys, businesses, and so on.
 Setting up the Requirements
After the adequate analysis is completed, developers compile a list of all the relevant features and specifications. Next, one visualizes them in the event of assistance, experts from the developer community are called upon. This is to guarantee that consumers get the item they ordered.
Launching the MVP (Minimal Viable Product)
More specifically, this has a wide application in application growth. We would release the application to see if it is of interest to the users. This is a great test case. The approach would concentrate on the important aspects while limiting production time and expense.
Check: MVP development cost
Customer-feedback
Feedback from your users yields a variety of material about your application. This allows for and/facilitates growth. To gather utilization data and get input, the MVP methodology is applied.
Features Integrated into Ticket-Booking-Apps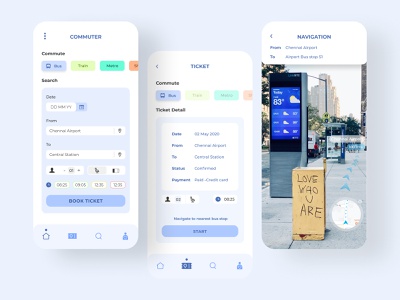 There are a wide variety of various functions built into ticket-processing applications. They are usually provided two distinct sets of features: consumer and administrative.
These are the functions,
User-Panel-Features
Registration and signing in.
Creating an account for the program requires additional information that as phone number, contact, name, and password. Registered users only have access to the Log In option. To request seats, log in with your phone number and the verification password used during the signup process.
Selecting this option allows you to "select a location" It can be achieved "manually" or through the GPS. Before moving to the home screen, the user must pick their position.
The main section here is where the customer can locate upcoming activities or programs. They are for individuals, teams, athletics, film, and social activities. When one lands on the chosen tab, further knowledge is given regarding the chosen event is provided on the next screen. Other contents that you might see on this page include notifiers, sales, languages, discounts, and settings.
This shows featured events to customers. They are sorted by sorting various factors, for example, ratings, names, locations, deals, and prices.
The reservation is done here. To log in, one just requires pressing or tap on the log-in button. Other step-by-by-step instructions are included.
This summarizes the reservation/order. Extensive specifics are listed, such as seat number, the price of the fare, and venue name are included.
Customers pay their bills here. Many payment options are accessible for them to choose from, such as PayPal, debit cards, credit cards, etc.
When the procedure is over, the customer will see information like ticket name, date and time, location, ticket type, overall ticket price, and account ID on their ticket via email or phone. Besides, the above, users are informed of forthcoming performances, deals are posted, and events are mentioned.
Admin-Panel Features
The administrator needs to use his/her administrative credentials to join the administrator panel to manage all of the functions.
Both the data supplied with the requests, the results of all orders, as well as company data, are stored here.
All event management is under the responsibility of this section.
All who are eligible have been given authority to use this system have been logged in.
The administrator oversees all the money generated by users. There are a variety of ways to extract profits, for example through site, place, usage, and several others.
All customers who have the booking app may be administered in this region.
Bookings can be managed via the booking manager.
Cost of Ticket Booking app development
Various factors determine the cost of ticket booking app development, below are the main elements.
UI, UX designs, graphics, capabilities, navigation, and user experience functions, and many others are responsible for the increase of development cost.
Different features are built into the program.
There are innovative features that raise the expense of creating mobile applications tremendously.
The expertise of the developer 
This will have a huge effect on the total development budget. The experienced developers are very costly.
iOS, Android, and Flutter are the most often used formats.
These costs will also be affected. mobile-wallet applications are more costly Additional complexity is the reason for this.
Time required for the development.
Various developers charge varying hourly rates. As a specific example, American developers are more costly than their Indian counterparts. This influences the company's progress.
The price can also differ from country to country. A typical ticket-booking app with the features mentioned above can be developed between $10,000 and $20,000. However, the developer's rate plays a vital role. Below are mentioned developer rates across the globe.
Indian developers range from $20 to $30 per hour.
European developers range from $45–$100 per hour.
Canadian and US developers range from $150–$250 per hour.
Check: hire mobile app developer India
Marketing
Marketing should be completed two or three weeks before the deadline to have feedback from consumers. Loss of productivity would lead the application development business to lose their clients. Any ticket booking program should adopt the correct principle and architecture to avoid crashes in the future.
Final Thoughts 
Ticket-booking apps are more difficult than most consumer apps, simple web-based applications. They contain personal details regarding users, as well as pictures, videos, and a multitude of other files. There are various new features included. Developing these applications requires more than average programming effort as they consist of critical information of a user.
Any queries about ticket booking app development? Fill this contact form & our experts will get back to you soon.