India is among the top countries globally that offer solutions to different tech companies. Whether you want software development, web development, App development services, and other related IT tasks, you can always find the best teams to collaborate within India and at fair prices. However, there is a process you need to follow for hiring top web developers in India. Let us look at the steps below:
Understand and Define the nature of your Project
You can't wake up one day and decide you are looking for web developers. How will you answer the following questions?
What is the objective of your Project?
What is your project size?
How urgently do you need the work done?… among many other questions.
Such questions make you understand that you have to plan first. So, before searching for web development services, you must understand your project's goals in detail. Also, when you know your goals, you will understand better the type of professionals to look out for. Our Project could be either simple, medium, or large-scale web projects. Understanding the nature of your project will give you a clear direction on which company to look out for in India. Other than the size of your project, your Project can be categorized in the following aspects:
Building from scratch– This happens when you start a new project, and you want professionals to help you out.
Expanding an in-house team– This happens when you have your in-house team, but you need a given skilled person that your team doesn't have. In this case, you can search for professionals in India and add them to your in-house team.
Introduction of new technology– This happens when you want to include new ideas to your in-house team. According to the trending technology, you want to do things differently, but you don't have a reliable skillset in your group.
Select a Web Developer According to Your Project
After defining your project, you now start looking for appropriate developers. These three categories of developers and include:
Back-end Developers- They are responsible for the website operations through a website structure. Their role is to ensure the speed is okay and handle any other issues concerning third-party services. Such developers use Ruby, PHP, Python, and Java as their programming languages.
Front-end Developer- They are responsible for creating an exemplary user interface. They ensure the user experience is okay. Among the duties of front-end developers include modifying the design of the website. However, there is a difference between front-end developers and web designers. Front-end developers use JavaScript, PHP, Angular8, CSS, ASP.NET, Vue, React.js technologies, among many others.
Full-stack Developers- This includes experts who can work on both platforms, i.e., they can work on back-end or front-end development. Many companies prefer full-stack developers for efficiency, to minimize resources, and save time. So, according to your project at hand, you can choose a suitable category from the explanation above.
How to Find the Best Web Developers in India
Technology has simplified everything. Nowadays, many businesses and people connect on online platforms. If you are searching for skilled web developers in India, you can check on the following platforms: Upwork, freelancer.com, Toptal, LinkedIn, and We Work Remotely.
You can also check the following websites, which have clear descriptions of India's IT companies that offer the best tech solution. There is SoftwareWorld, Clutch, AppFutura, and tech blogs.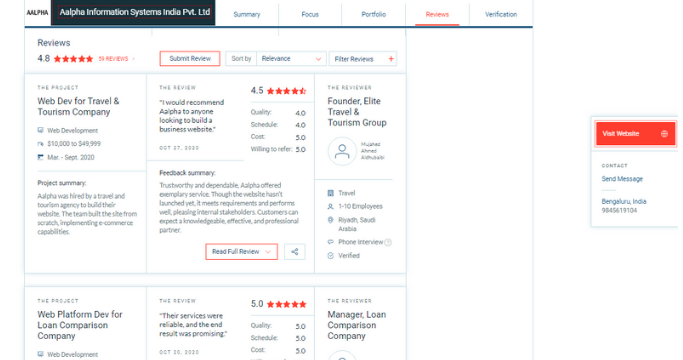 AppFutura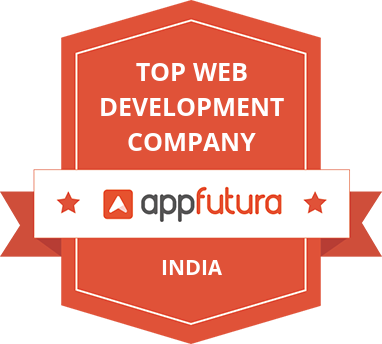 Qualities of a Good Developer:
Creativity– Developers usually find solutions to different problems. A good developer should have adequate creative skills to solve any problem with ease. They should stay ready to face any situation that comes along the way.
Passion and Curiosity- A good web developer must have a passion for what they do. Passion drives a person to do their best when dealing with their specialized areas. The developer should also always be eager to learn new technology trends since the field keeps on transforming every time.
Detail-oriented– When given different projects, good developers should always be keen on the finer details to produce what the clients want.
Collaboration Skills- Remember, when you hire the development team, you will have to communicate and collaborate every moment to ensure the project turns out well. So, they must have good collaborative skills no matter what.
The Cost of Web Development
It can be a bit tricky to settle for a web project's price since there are many aspects to consider. There is quality, speed, the scope of work, among other factors. However, many clients focus on speed and quality.
You must know the value you will get out of your money. You can inquire from developers to give you an estimated time they are likely to complete a specific task. Also, you can check at different stages to stay updated on the progress.
Other aspects that will determine the cost is the skillset of a person and location. If you have a fixed budget, ensure to talk in detail with the development teams, and agree before the Project begins.
Check: web development cost India
Models of Hiring
In the field of web development, you can hire developers in India using three different models. You only choose the one suitable for your needs. The models include:
This model is appropriate for already established businesses that want to accomplish some small tasks. The development team handles the Project according to the agreed time frame and scope of the Project.  Under this model, the web development team controls everything until the project is completed.
The model is suitable in the event when a complex and urgent task arises. Since you do not want to waste time and resources, you opt for dedicated teams to quickly fix your problem. Under dedicated teams, you can decide to manage the Project or leave it in the dedicated teams' hands to control everything.
If you have a big project under a fixed budget, then an extended team model is ideal. One requirement for this model is to have at least an in-house project manager who will assign different jobs to the extended teams and monitor every activity to ensure everything is on the right path.
Modes of Payment
Once you have settled for your project's best web developer, you will need to make payments for the work done. It doesn't matter the model you selected because you must pay for the services rendered. However, with a project-based model, you can choose the following payment models.
A fixed price model is ideal for a small web project with precise deadlines and working scope.
Also known as pay as you go model, it is suitable for an average or small Project, but you can't estimate deadlines for the Project. With this model, you pay each developer through hourly rates according to the total time spent on the Project.
Check: outsourcing pricing models
Factors to consider when hiring remote developers
Remote developers work on their schedule from any place. Before you hire such developers, you must consider some aspects because you can't manage them physically.
Initiatives- These are vital elements in any given project. As for the case of in-house hiring, they have a manager who oversees all the progress. Managers can motivate employees in different ways. When hiring remote developers, ensure they have the initiative skills to give you the best projects. You can check their reviews from other clients and rate their services.
Self-motivation- With remote developers, there is no outside motivation. They work on their own and deliver the Project as required. If they lack self-motivation skills, they might produce low quality work or miss the deadlines.
Self-critical- As mentioned before, there is no close supervision for remote developers. It is their responsibility to be self-critical to produce the best results. The best way to evaluate the best remote developer for your project is by checking their previous records. Clients always leave feedback for their experience.
Check: How to handle remote employees
Conclusion
There are many countries you can get the best web developers. India is among the best countries offering IT services worldwide. If you want to get their services, you can check different companies and their online platforms' reviews. Ensure you put the above factors in mind to get the best professionals.
Hope you've got the complete idea about the process of hiring top web developers in India