Marrying User Engagement to Social Media App Development
According to Smart Insights, in January 2016 [1], the number of internet users across the globe was a whopping 3.419 B. Of these, 2.307 B were active social media users. These social media users access social media platforms from either their desktop or using handheld devices. According to the same research, 1.968 B of global population uses mobile phone to access social media. This penetration pens down to an impressive 27%, scoring a growth of 17% compared to the last year.
Isn't this enough the stress the importance of social media apps?
In the last 3 years, social media apps have found an indispensable role in our everyday life- thanks to the penetration of smartphone and the internet and the constantly evolving group of technology enthusiasts!
The success of social media apps has to be attributed to their ability in engaging their vast and heterogeneous user community. Great design, attractive features and a thoughtful layout are the key forces driving this transformation. Mobile apps with interactive and user friendly design grabs user attention instantly. Innovation in graphics designs, detailing in representation of product and services on your mobile app, navigation and wireframe- everything forms a crucial aspect for holding the user attention.
It's not easy to hold user attention. As goes by the famous saying, the attention span of the Goldfish is 9 seconds, greater than the average human attention span at 8 seconds!
In this cluttered online world, it is important to differentiate yourself to win customer attention. Content is definitely an attractive proposition, however, it is secondary. Till the point your app is not presentable, easy to navigate, user friendly and soothing to the user's eye, no other medium will prove effective. The magic lies in the hands of the app designer and developer and the platform used for social media app development.
So what's the trick?
How can social media apps achieve their end objective of ramping up user engagement levels?
Well, here are some tips for social media app developers and designers to increase user engagement:
#1 First Impression can be your last impression
While it is not necessary that first impression will be your last impression, but it definitely can be so if the user uninstalls your app and never comes back. Moreover, there is yet another sizeable user population who download an app but never use it again is high – meaning you must grab first-time users right from the beginning.
An interesting way to do this is to quickly introduce the users to the app, its objective, its key features and the USP you are trying to position.
#2 Customer Experience is the bullet in your armor
One can negotiate everything but customer experience. Right from the moment the customer interacts with the app for the first time till the time the transaction is completed and the objective is fulfilled, every aspect of your social media app matters!  Users want to feel welcomed and appreciated. From navigation to design, every aspect helps in improving user engagement. One not to forget tip is to help users with instructions, FAQs and contact us pages.
Not just this but you should ensure that your app keeps your users engaged in real time.  Providing the latest info and adding meaning to everyday experience is a key to enhanced user experience, repeated visits and increased retention.
#3 Sell benefits and not features
Overwhelming a user with excessive features is not advisable. Users care more about the benefits than the features. It's not gradually that they start picking up features. So, as app developers and designers, we should ensure that we clearly communicate the benefits the users stand to derive from our social media app and gradually promote the features to the users
#4 Create distinctions compared with your website
If you have a social website, your social media app should not a replica of your website in mobile format. The content, tools and other incentives should be unique and different for app users compared to your website. If they are the same, the users will have no incentive to use your app.
#5 Your community is your weapon
Being a social media app, having just messaging and sharing capabilities is not enough. The community needs more- new ways to communicate and express being noticed and appreciated. As social media app developers and designers, you should build community with innovative means to help people express. New means to share opportunities and experiences is essential to social media apps. At the same time you should keep your users engaged with variable and expected rewards. This can work wonders to ramp up your user engagement level. Consider using the calendar SharePoint to schedule any meetings needed to get in touch with users.
#6 Include Gamification
With the millennial population taking over, it is important to ride the trend of transformation. As an up-to-date social media app, you need to stay ahead of your competition and pre-empt disruptions. Gamification is one such growing trend. Not only can it engage users, it has the capability to make users addictive to your social app.
#7 Push Notifications to the rescue
Don't just inundate your users with push notifications! Push notifications are weapons which when used judiciously can be just the tool to reengage your users, get them excited about new features and help them make the most of your product. If overused, this can lead to dilution of your message.  Just be little careful, be wise and you will see your user engagement levels rising soon
#8  Sync your app?
As a social media app, you should help your users with their everyday activities. This might need you to sync up your app with their phone contacts, calendar, camera images, other apps and may be even some other social media channels. As a user friendly social media app, you should make it easier for your users to share, post and consume content in all formats.
#9 Take Feedback
Your users are your stakeholders. They not only use your app but they also have a say in your social media app design and development. As a customer centric social media app, you should give your users their voice, while having them help you create a better product, by allowing feedback opportunities within the app.
This shows you empathy towards your users and your concerns about their experience and opinions while also helping you identify trouble areas or rooms for improvement.
#10 Reasons to come back
How do you incentivize your users to keep coming back to your app?  Regular but random rewards and incentives can keep your users active. This would need you to have a view of your customer and understand your users in and out.
And yes, this analytics is possible by collecting different information from users at various times or giving users the ability to access different levels of information once they've used the app for a certain amount of time.
While these tips are essential to design and development of a user centric social media app, you should also remember that one should never ignore what people want?
According to Dasha Ermolova, the hierarchy of needs from a social media perspective is: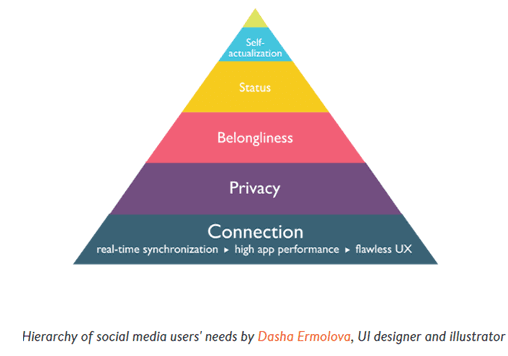 Connection- Irrespective of you launching your social media app across single platform or offering a cross-channel user experience, correctness of the system behavior is the main concern in the process of app development.

Privacy- Every user has the right to privacy- the right to control what they see and what information about them can be used. Right from user profile data , to user's network and connections and news feed, everything should be in control of the user.

Belongingness– The very reason for social media being famous is the sense of belongingness it offers to the users- the feeling of belonging to a community, being recognized and share emotions. Your social media app should recognize the empathic needs of the user and induce the feeling of being "connected" through groups, network/connections, chats/messages, feeds/updates and more.

Status- More than we do things for others, we do it for ourselves in the first place. And we want to be appreciated, respected and recognized for what we do. To enhance user engagement, social media apps should help users feel the "status" by cultivating self-esteem and prestige.

Self Actualization-While users indulge in social media to engage and belong, they also interact with social media in pursuit of useful information and knowledge. Customer centric social media apps should bring useful personalized information to its users to help fulfill their users "self actualization" needs.
The tips along with hierarchy of social media app needs can help your social media app increase user engagement en masse.
At Aalpha India, we offer expert social media app development services using years of experience, latest technology and domain expertise (covering all areas mentioned above and beyond).
Source:
[1] https://www.smartinsights.com/social-media-marketing/social-media-strategy/new-global-social-media-research/