Online purchases have been one of the most significant considerations in the current world. Therefore, almost everything marketable can be sold or bought via an online platform. With the continued usage of online sites and media for purchases, many of these e-commerce sites' users embrace the need to purchase online. As a mode of expanding businesses in the online sphere, there is a great need for developing reliable and robust mobile applications crucial for driving companies to a different level.
According to statistics, mobile e-commerce is firmly taking over the business sector, with both the buyers and sellers appreciating the use of such means of trade. An additional stimulant to the rise of mobile e-commerce is the coronavirus pandemic. With the onset of coronavirus, most people would not be able to move from place to place in search of products to buy and sell. Therefore, the online platforms took advantage of the same to enhance the continued growth of mobile e-commerce. This piece will explore an in-depth study of the best practices for eCommerce mobile app development for the current market.
Meanwhile, let us delve into some of the basics of building powerful e-commerce mobile applications.
Set your goals
Developing a mobile e-commerce application requires that you define what you want. Therefore, you must understand your goal and know what you want to achieve before building any application. It is undebatable that businesses have goals and, in fact, concrete ones. Therefore, as you plan to develop a mobile e-commerce app, it is essential to spell out and even write down some of the concrete reasons pushing you to establish an e-commerce application for your business. Doing so will help you build a powerful application that will serve most of your business needs perfectly.
Understand your target audience
Usually, the building of applications must go hand in hand with understanding the target audience. With a proper understanding of the correct audience of your desired e-commerce mobile application, you will find it easier to undergo the developmental steps of the application since you understand the frames in which the development of your application lies. Finding out the target user base calls for understanding the routes users take to make purchases according to customer preferences and needs.
The types of mobile application
There are majorly two types of mobile applications considerable when developing a mobile e-commerce application. The types include native apps and progressive web apps. Native applications can be downloaded from the mobile app store and installed on the user's device. However, the applications demand servicing of users' needs across various platforms, which could be labor-intensive. However, it is easier to implement optimization on these applications which each operating system performs the best service ever.
On the other hand, Progressive web applications are top-notch web applications that offer the best in terms of high-speed performance and require no app installations. Such applications employ the use of up-to-date web technologies such as CSS, JavaScript, and HTML. They serve pretty better as business applications for businesses with no proper finances.
The essential features of mobile e-commerce applications
It is critical, especially if you want better e-commerce mobile applications that will serve you as desired. The features of your mobile e-commerce application entirely depend on the nature of the application. However, every mobile e-commerce application should not miss out on the following key elements: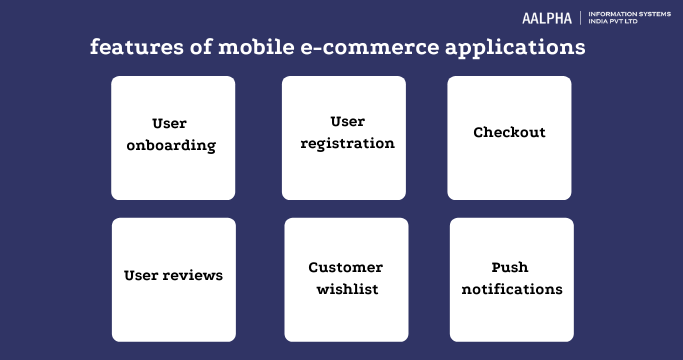 It is crucial, especially if you want to develop a proper mobile app UI that gives the user an appropriate interaction with the application. Therefore, when creating the e-commerce application, it would help if you focus on user onboarding. It is because it's a crucial top, especially when you want your app to achieve better retention, revenue, and conversion rate. Center more focus on providing essential information that guides the users into the app's benefits.
You will often need to ensure the registration of users of your e-commerce application. Therefore, it would help to provide a better option for your e-commerce application to register new user accounts. Doing so helps personalize the user experience, thus lessening the users' path into purchasing the e-commerce application. It would also help employ user behavior into the e-commerce application to provide product suggestions and services users may likely want to buy. You can do so by first tracking their browsing history before making recommendations on products they can buy.
Ecommerce mobile applications are business applications, and therefore, you will often need to handle finances appropriately. One of the most incredible hacks in designing a proper application that deals with finances appropriately is properly implemented checkout. Remember, making purchases to completions isn't an easier task for your app user, and therefore, simplifying their way out would help as much. Defining a proper final step for customer purchases is as good as creating an option that enables customers to return to the checkout page to adjust assets and other related requirements. It is also essential to employ suitable payment options for the user and complete purchases without further strain.
Another best necessity as the best practice for designing a proper e-commerce application is provision for an area through which users can post their reviews and speak out their hearts. You can get positive reviews from the users, which is an excellent source of pulling in more and more purchases and customers.
At times, users can get a product from your e-commerce application and desire to buy it later. Therefore, it is appropriate to consider a feature that enables users to save items they desire to buy later, perhaps because of inadequate finances or anything else – the customer wishlist. It is an excellent hook for your application and will increase a follow-up on products by the customers.
It is also another essential hack for your mobile e-commerce application. Therefore, when developing the app, don't leave out push notifications. With push notifications, you will easily reach out to users and increase the customer base.
Check: eCommerce development company
Trends to consider when developing mobile e-commerce apps
Chatbot technology is the newest "sheriff" in town should you think on matters of app development. It provides a better way of handling users' questions about your applications. With statistics registering a 35% ratio of users interacting with chatbots, it is essential to highly employ this technology to handle report problems, complaints, and much more. It is a more significant source for sale boosting.
The use of user-generated content is also a crucial entity in developing a proper e-commerce application. With user-generated content, you can easily share your product or your application's services widely. It is an excellent promoter of the services you provide on the mobile e-commerce application.
Making massive purchases can be quite a big deal for customers who may at first not entrust the product they can't test physically. Therefore, you must offer a reliable visual experience to the customer and give out different ways to experience the product. You can consistently achieve clear impressions by using multiple images for a product, with each photo taken at a different angle. You can also utilize rich media such as videos to display the products when underuse and provide image zooming capabilities where a user can zoom the product's image to view it. It assures the use of the quality of the product before making purchases.
Most marketers find it appropriate to rely on Augmented reality for customer engagement and raising sales. Therefore, more augmented reality into your e-commerce applications will serve you better and quicken returns through profits and boost sales.
Animated buttons and cinemagraphs
There is more that can attract users once they are within your e-commerce application. For instance, animated buttons and cinemagraphs help the user easily navigate the application with a more incredible experience. Therefore, employ animated controls that change color and include various related videos in your e-commerce application.
Best user interface practices for mobile e-commerce applications 
Simplify your user interface
The user interface is among the most significant elements of your application that needs to be better to attract users and keep them. Therefore, a better way of making a user interface powerful and reliable is to consider its simplification. The user interface should be user-friendly and customer-intuitive. Avoid unnecessary staff and include what is crucial for the app. Distractions generate a poor user experience and may cause you to lose most users.
Extensive alpha and beta testing will significantly optimize your application. A more significant consideration to such an ingredient of proper e-commerce application development is a source of achievement in your entire business.
Conclusion
Other productive necessities and practices for mobile e-commerce applications include an extensive analysis of the in-app behaviors, events, sessions, churn, app retention rates, among more.
Any queries for eCommerce mobile app development? Feel free to contact eCommerce development company & get a free quotation today.