A perfect e-commerce application can boost your business endeavor immensely, helping you gain more profit. However, generating an ideal eCommerce application is pretty challenging, primarily due to the competition that exists in the modern market. Millions of e-commerce applications exist to date, some of them setting the bar pretty high. However, some applications have a terrible UI or a UX that is not impressive. These factors drive customers away and lower the profits of your business. So if you hope to venture into an eCommerce app, you have to ensure that it works perfectly. But how do you achieve this perfect eCommerce application?
Why are e-commerce Applications crucial?
Most people in the modern world opt to access eCommerce services online via mobile applications. Actually, according to a survey we took, we came to realize that 78% of customers prefer to utilize mobile applications more than a website. Moreover, users tend to spend up to 4 times more time on mobile applications.
Thus, if you are looking to boost your sales and increase your revenue, you should opt to utilize e-commerce applications over websites.
But, before moving on to build your eCommerce application, you should consider the following aspects.
Crucial aspects that you have to consider when Building a perfect eCommerce Application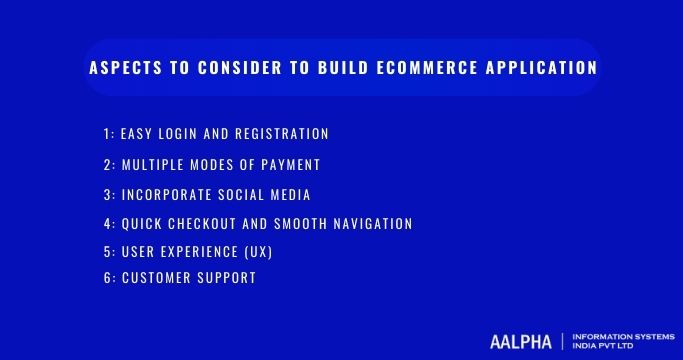 Easy Login and Registration
The primary purpose of eCommerce applications is to increase a company's customer base. Hence the application has to have a streamlined login and registration process. The process should be extremely smooth to avoid losing customers before logging themselves onto the system.
To make the registration process easy and streamlined, avoid asking many questions. Doing so might frustrate your potential customers. Also, ease the registration process by utilizing the correct form format and let your customers log in using these options:
Email address
Social media account
You can also utilize a one-time encrypted password for direct logins. Doing so will boost your customer's confidence in the security of your application.
A registration process that is smooth leads to impeccable conversion rates. These conversions finally breed better sales for your firm.
Multiple Modes of Payment
In the 21st, we have so many currencies and modes of payment. Therefore, having just one mode of payment in your application can be a major drawback. What's more, if your competitors add multiple modes of payment in their application, you might end up losing your customer base fast.
Therefore, when building an eCommerce application, you should go beyond regular debit and credit card modes of payment. By integrating APIs into your application, you can gain access to multiple modes of payment which include:
These modes make your customer's payment process convenient and easy to utilize throughout. These two factors, in turn, attract more customers.
Incorporate Social Media
Incorporating social media onto your eCommerce application can be lead to one of the following cases:
It might create an extensive opportunity for your users to promote and share your services and products online
Or it might lead to better company to customer interaction which is crucial to growing your brand
Either way, each of these options positively impacts your company. What's more, you can even utilize your company's social media account to address your customer's complaints/queries. Doing so will further help you build a better relationship with your customers.
Quick checkout and Smooth Navigation
Quick checkout and smooth navigation are two aspects that you should consider supreme over all other aspects. That is because eCommerce applications tend to have so much information, which includes:
Product categories
Produce subcategories
Filters which include low to high pricing, et cetera
Having seamlessly smooth navigation ensures that your users navigate through these options effortlessly. Bad navigation might repel customers, which will not be suitable for your business.
Most customers do not like wasting time. Therefore, they appreciate a quick checkout which ultimately means that you will be getting more orders.
To make your checkout process quick, add in a mode of payment that needs only one click to complete. That will keep the process simple and easy to get around.
User Experience (UX)
Ecommerce applications that do not have a good User Experience tend to repel customers. Therefore, you should make your application visually attractive by using:
Fresh color
Clear fonts that are concise
And images that describe your service/product rightly
Note that ninety-three percent of consumers gauge applications using their visual appearance. Therefore, they tend to favor those that are appealing and ultimately ignore the unappealing ones. That means that your perfect eCommerce application has to be appealing if you wish to grow your customer base rapidly.
To make your application stand out, you have to carry out research. Check out existing applications that have high traffic, then compare your application to theirs. Utilize the comparison to better your application's UX to gain a market advantage.
Customer Support
Every once in a while, your application users will require customer support on issues regarding:
Navigation
Technical glitches
Queries on post or pre-purchase
And so on
These issues are almost inevitable even if you carry out multiple tests on your application to get rid of bugs. However, you can avoid negative reviews from your customers by offering quality customer support. Remember that when you get negative reviews from your current customers, gaining new ones becomes tricky.
Hence, you should create a customer support system with impeccable knowledge of your application. Contacting them should also be easy, and their communication skills should be fantastic. If you find it challenging to bring together a good team, you can always outsource your customer support team from external parties.
However, if your application lacks a customer support team, try adding a detailed FAQ portion to the app. Using this section, your customers can try to solve some issues independently, which might save you some trouble.
Why do we require Custom Applications?
Well, a practical answer to this question seizes to exist! However, we can derive some reasons as to why you might require to have a custom application.
Customer retention – having a custom application helps you retain your customer base. Doing so helps you increase your sales over time which ultimately helps you reach your goal.
Creating customer trust – custom apps help you build a lasting relationship with your customers. Doing so ultimately boost their trust in your brand, which leads to more sales. A good brand-customer relationship also leads up to cost-free branding by your customers. That reduces your advertisement investment and boosts your customer base immensely.
What's more, a custom application can also make your work as a manager easier. That is because you get to:
Track orders with ease
Manage your inventor digitally
Manage your staff online
And much more
Conclusion
Building an eCommerce application is, without a doubt, a tedious task. It gets even more challenging when you do not know what to add to your application and what to leave out. However, after reading this article, we believe that you now know the tricks to implement to make your application a success. So channel your creativity and make your eCommerce dream come true.
To know more connect with eCommerce application development company!