Are you looking to or already running an eCommerce venture? If this is the case, then a website becomes your most precious and valued tool for marketing. Before moving on to any other advertising strategy, you have to ensure that your site is well designed to suit the needs of your target audience. As an eCommerce entrepreneur, you can choose between two approaches towards conversion optimization, which vary upon the audience you are targeting.
Is your eCommerce business running a B2B (Business to Business) eCommerce site? Or is your eCommerce business running a B2C (Business to Consumer) eCommerce site? After answering these questions, your next move would be to identify the difference between B2B and B2C eCommerce, and that is where we come in. This article will dig deep into B2B and B2C ecommerce websites and bring out the major difference between these two websites. Hence follow along as we help you grow your eCommerce venture immensely.
Did you know? By 2025 the global eCommerce market size is anticipated to reach $7 Trillion.
What are B2C and B2B eCommerce?
In a B2B eCommerce venture model, companies (often wholesalers or manufacturers) sell their products to different businesses, most often to retailers. After buying products from a company, retailers then sell the products to an end-consumer; this is the form of e-commerce venture referred to as B2B.
B2B eCommerce businesses are not always that simple, of course. I mean, some manufacturers might establish a direct connection to an end-user whereby they sell their goods directly to the individual and not through retailers. Hence they adopt a B2C business stream though they are developing the products. Take, for example, a beekeeper who harvests and sells their honey to consumers directly. Likewise, large retailers might decide to sell their products/goods to other businesses in great bulk. Take, for instance, a retailer that deals with furniture; if they sell hundreds of office desks and chairs to large companies, then this purchase would land the retailer in a business-to-business model.
Most businesses adopt both a B2B and B2C model. However, others might adopt a B2B2C model or a B2B2B2 model whereby a supply chain goes through multi vendors before reaching its end destination.
All this might seem overwhelming at first. To make it simpler, let us take examples from the real world.
B2B ecommerce: Symantec
Symantec is a company that supplies the software anti-virus utilized by apple to scan the companies' internal infrastructure while also shielding the companies' data—completing a B2B system.
B2C eCommerce: Walmart
Maybe you have heard of Walmart before; they buy goods from manufactures and wholesalers worldwide and then sell the purchased goods to consumers.
B2C and B2B eCommerce: IBM
If you love tech ideas, then you are familiar with the term IBM. IBM market their PCs to the end consumers directly. However, IBM also employs teams that are dedicated solely to corporate sales. Moreover, these corporate sales dedicated teams negotiate the purchases of goods (computer equipment) made in bulk. IBM hit the market initially as a B2B, but later on, they started to apply the B2C model for their Personal computers.
B2B2B ecommerce: Apple
Apple sells its iPhones to a company called AT and T completing a B2B model. In turn, AT and T resell the purchased iPhones to organizations that, in turn, distribute the phones to their employees. The phones are bundled up with a contract from AT and T corporate services hence completing another B2B model. Therefore this stream of sales makes up a B2B2B eCommerce.
B2B2C ecommerce: Alibaba
Are you a fan of online shopping? If so, then you might have heard of or even used the Alibaba online platform to purchase goods. Alibaba makes their sales directly to the retailers via an online platform completing a B2B business model. The retailers then sell the purchased goods to consumers completing a B2C business model. Alibaba white labels their goods to brand the goods bought as their own and resell them to the consumers.
Also check: b2b b2c portal development
Why does all this Matter?
The marketing strategy you undertake is affected dramatically by the business model you apply in your business. Hence, knowing and differentiating the different labels helps you improve your business's conversion rate. If your company uses a B2B business model, you focus your marketing on retailers and other companies. Moreover, if you use a B2C model, then your marketing strategies should focus more on the consumer.
Primary B2C and B2B attributes
B2B business model:
Sales are of low volume but high value
Serves fewer buyers
Buyers and sellers negotiate prices
Longer sale cycle
The association between a buyer and a seller is usually long term
B2C
Serves a bunch of buyers
Sales are of low value and high volume
Mostly Non-negotiable, though coupons are offered
Rapid sale cycle
All in all, we can simply say that B2B customers make purchases to boost their businesses while B2C customers do so to have a better life.
Difference between B2B and B2C eCommerce
B2C and B2B eCommerce website differences are pretty subtle.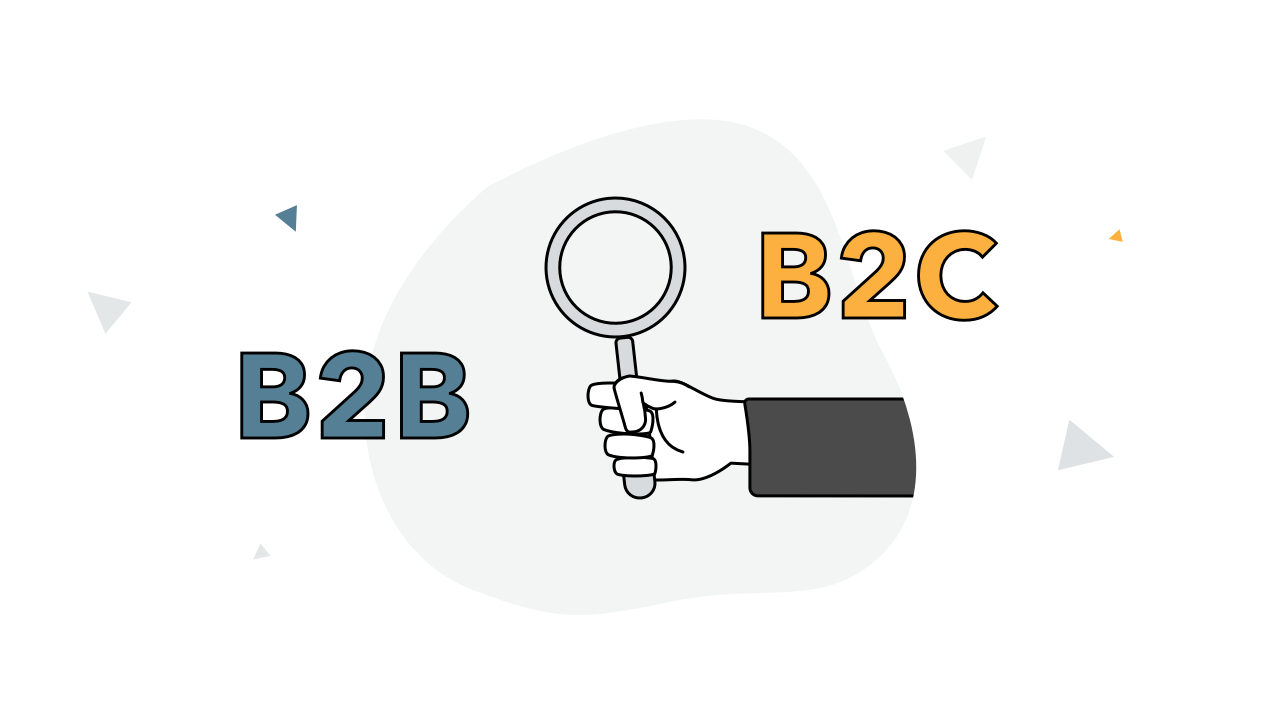 Products supporting content
Products supporting content simply describe the things that help buyers make the right decisions.
B2B products that support content
B2B websites entail the following as per products that support content:
In-depth goods videos
Guides as per comprehensive buying
Blogs and article posts that dig deep
Easy and convenient access to sales reps
Case studies that outline consumer success stories
B2C products that support content:
B2C websites entail the following as per product that supports content:
Discounting
High resolution, clear images
Ratings and reviews
Product highlights and features
Social proof via review videos and customer testimonials.
A Tailored Homepage
When a buyer accesses your website, they do not always see your homepage first. Moreover, they often bypass your homepage by moving directly into a specific product via a Google search. They will, however, almost always check the homepage of your website to make sure that your business is trustworthy. Hence you have to create a homepage that meets their set expectations.
B2B homepage:
Content should be highly informative ("you should also learn how to start a blog and educate your audience")
Straightforward design
Main products images should be in the websites hero section
A Quick ordering system
B2C homepage:
Creative and catchy headlines
Offers, sales, and discounts which take the form of the carousel
Flashy and vibrant homepage
A Call to action
Maybe you have seen or used the "Book Demo" or Buy Now" buttons on your website to try and direct your customers to do something. Maybe buy something or book a demonstration; this is called a call to action.
B2B CTAs pretty direct the point, while B2C site CTA tends to be kind of creative.
Customer support level
Customer support comes as essential in B2B and B2C business models.
B2B customer supporting level
Active check out process customer support
Video and live chats to try and answer FAQs that are business-oriented
Customer care after sales in case of concerns and reorders
B2C customer supporting level
Post sale system which handles exchanges, complaints, and returns
All-day, all-night customer care support every day
Self-service bots are available
Checkout process
A checkout process usually marks the end of a customers' journey as far as online shopping is concerned. Here are some distinguish between B2B and B2C checkout processes.
B2B website:
Human interaction
Payment options, for example, credit cards and checks
"One-click reorder" system for orders that are repeated
B2C Checkout
Wishlist option to add products
Nudges to avoid shopping carts that are abandoned
Availability of payment options
Referral codes and coupon adding options
Conclusion
As described in this article, B2B and B2C business models bear many differences, and their respective websites bear differences. We hope that this piece has brought some light on any issue you could have had regarding B2C and B2B eCommerce websites and how they function.
Looking for B2C and B2B eCommerce development services? contact us & get a free quote today!
Also check: B2B Multi-Vendor Marketplaces