The current businesses depend on cloud services to enhance infrastructures (networking, storage, databases, services), services, or software in their operations. The infrastructure supports performance, flexibility, innovation, scalability and offers reduced costs.
Global pandemics like Covid-19 accelerate digital transformation. The covid-19 transformed most organizations to cloud usage to meet the remote work demands for their clients' experiences and the reliability of the support system. Gartner predicts that by 2026, the public cloud usage will exceed 45% from the 2021 17% IT usage.
Cloud computing is providing services on the internet using networked computers. The cloud platform or the CSP (cloud service provider) are third parties that offer cloud computing services to build public clouds, offer on-demand cloud services, and control private clouds. The AWS (amazon web services) is the current top cloud services provider based on popularity and usage. It accounts for around 32% cloud share market. The other cloud service providers are Google Cloud, IBM Cloud, and Microsoft azure.
Types of cloud computing
The three cloud computing types are useful for the implementation of cloud services. The three-cloud computing architecture or models include:
It's a model used by a single organization to access cloud computing services. The organization owns the management costs of this private cloud.
It provides cloud computing services via the internet. Third-party cloud service providers own the public cloud.
It's a mix of both the public and the private clouds.
Types of cloud services
Any cloud service provider can rent and offer the four main types of cloud, functionalities, services, or strategies. They include the following:
1. IaaS (Infrastructure-as-a-Service
The maintenance, ownership, and provisioning of servers, storage, VMs (virtual machines), operating systems, networks with other resources are helpful to organizations. They help build and manage data storage, operating systems, and the network infrastructure. The examples include Microsoft Azure and AWS (amazon web services).
2. Platform-as-a-Service (PaaS)
PaaS offers an environment or platform to develop, test, deliver, and manage the software, including storage, servers, databases, and network. Examples are OpenShift and Google App Engine.
3. Serverless computing
Enhancing PaaS, serverless computing brings extra services to tackle infrastructure management and services. They include setup, server maintenance, and capacity.
The examples are IBM OpenWhisk, Microsoft azure functions, and google app engine.
4. Software-as-a-service (SaaS)
The software provider will host and deliver a software application of this type. It also gives its infrastructure to online internet users.
The advantages of using cloud service providers
Due to the stiff market pressure from competition and high consumer demands, businesses must look for ways to become agile and flexible. The cloud platforms help in the reduction of costs and spur innovation. Here are the main reasons why organizations are using cloud services.
The pay-as-you-go pricing makes these services cheap because you only pay for the bandwidth or services when you need them. These services also reduce energy and internal IT costs (IT time and capital investment). All these lead to a high productivity rate in employees.
Leaning on the IT resources and the scale-up needed for the part or all infrastructure for a cheap approach reduces the bandwidth requirements.
The cloud service can serve as an alternate backup plan protecting against power sources, natural disasters, and other failures. Most CSPs create redundancy in the backup plans to protect from regional disruptions.
Server operating system software updates and patches
The service providers are responsible for updating the software, including the security updates and regular updates.
The increased use and stiff competition in cloud services make reliability and performance key factors. All organizations that use cloud services depend on 24/7 support and greater uptime.
Cloud computing gives access to services and data to offer anytime and anywhere workforce support. Such a need is acute with the current evolution of hybrid and remote workforces.
Using the on-premise services, you limit the infrastructure that you can maintain or buy. If using cloud services, you only buy what's needed at the moment.
Quick deployment and development
Organizations may quickly pick an idea from designing to developing with the buildup delays of the new infrastructure. Serverless and PaaS cloud services offer complete development tools and services, including debugging and testing environments.
The organizational, societal, and economic effects of covid-19 will always be catalysts for the adoption and digital innovation of cloud services.
Challenges you will face while using cloud services
The following are the challenges you will face when you choose to use cloud services:
Each cloud service promises availability and performance, but actual performance might vary.
New technology needs an experienced IT workforce and training for people using this new service. Some cloud service providers have features for migration, setup, ease of use, or offer an overall user-friendly.
Security threats in cloud services
Cloud computing has increased cyber-attacks. It's possible to improve security by getting the best service provider and enhancing shared responsibility. The responsibility should center around identity and access proof authentication.
Cloud providers might lack support staff or documentation to support clients instead of sales.
Good Read: Cloud security challenges and solutions
How to Choose the Right Cloud Provider
The market for cloud computing has many service providers. The leading providers are Microsoft (Azure), Google (Cloud), and Amazon (AWS). Use the following factors to choose a new cloud service provider as an organization.
Good Read: difference between aws azure and google cloud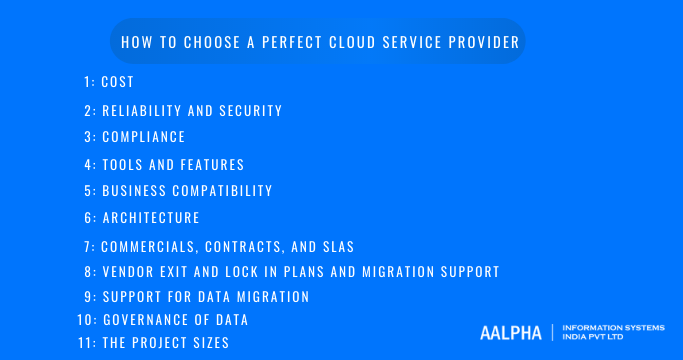 Check the pay as you go and upfront cost to see if you can manage. Check if there are any minimums, reservations, volume discounts on the service. More importantly, check the billing type for hourly/monthly, user, gigabyte, or execution. Weigh the cost expenses with other relevant factors. Many cloud providers offer aggressive pricing to first-time clients. Be keen on price increases over time.
Consider factors like robust security and resilience of the service provider. Pay attention to historical figures/regional capabilities on uptime. Document well provisions for disaster recovery, integrity checks, backup/restore, and responsibilities/roles of the party. Many providers will detail integrations available or security features (paid or free). Check the specific areas, including access controls, identity management, authentication, and data storage or processing.
Consider the effects of the state, industry, and federal regulations when choosing a cloud service provider. All cloud providers have shared responsibility statements for compliance. Some regulations might prohibit the transfer, processing, and storage of client data under specific regulations like data transfer or storage capabilities are within a specific boundary. The same might apply when they have specific needs around confidentiality, protection, or access controls. The regulations may also have specific needs for breach reporting and response.
Cloud service providers offer different features or accommodate others as add-ons. You need to look for all service types (PaaS) and computing resources, security, monitoring, deployment features, and the user experience. As per Gartner, Microsoft is the leading broadest capabilities range for SaaS, IaaS, and PaaS.
Check : SaaS development company
The service provider should match the business's technical, operational, and business goals.
Check how cloud architecture corporates with the existing services or technology within a business. Check for both cost and technological synergies to stay within the large ecosystem like amazon, google, and Microsoft. Ensure the service provider supports future and current needs by looking at microservices, multi-cloud, and microservices that support serverless options and container capabilities.
Commercials, contracts, and SLAs
SLAs and contracts should get amended and reviewed carefully if needed. Ensure the SLA includes penalties or an exit clause for unmet service levels.
Vendor exit and lock in plans and migration support
Vendor lock-ins are serious concerns. They are either by proprietary or contract technologies. It's the reason why Gartner says that certain cloud service providers pressure annual spending increase at the contract renewal time. The perfect approach to respond to this risk is by using many service providers and having knowledge of proprietary technologies that can result in lock-in.
Support for data migration
Check each service provider for services offered for migration. Many service providers possess assessment tools that aid in migration. They have specific tools that support server, application, and database migration.
Cloud governance highlights policies and applied controls to cloud services for security and privacy reasons and cost usage. Such controls can set the maximum spend of a department or an organization to use cloud services to inhibit the overuse of resources.
The project's scope, size, and goals place different requirements on cloud service providers.
Conclusion
Lack of proper planning is a major reason why cloud migration can fail. You need to understand business needs, the cons and pros of different service providers, and the experience to build the current cloud. A reliable partner can aid you in solving many cloud failure problems.
For information about Cloud Service contact us and get a consultation at no cost.
Also read: Cloud Strategy in Cloud Computing | Benefits of Cloud-Based ERP Software |