The packaging and moving industry's steady success has elevated it as one of the most impressive market prospects. Nowadays, people are gradually drawn to the on-demand landscape because of their stressful lifestyles. Several packers and movers have succumbed to this mobile wave to remain successful by creating highly utilitarian on-demand movers and packers mobile apps. Before beginning growth, you can recognize the different features that will render your product attractive to consumers.
Services provided by Packers/Movers
Relocation is never pleasurable. The hectic and often incredibly stressful method will detract from the allure of relocating. However, with the help of expert packers and movers, the whole operation may be a breeze. If it's pricey chairs, equipment, delicate decorative chinaware, or your prized plants, these specialist service providers will guarantee that all items are relocated safely and without a scratch.
Relocation of Residents
Moving is a tedious operation. Professional packers and movers assist in the relocation of all kinds of personal possessions. From books and clothing to furniture, their staff is ready to tackle everything.
Relocation to an Office
Companies that specialize in packing and transporting provide specialist workplace relocation services. They pass all responsibility, from personal computers to processors, gadgets, and other office-related items. Additionally, they streamline the stockpiling and coordination processes.
Transportation of Goods and Services
Both heavy-duty pieces, such as automobiles and industrial cranes, can be moved quickly with the assistance of experienced packers and movers. Or intercity or intracity, these systems simplify the process of transporting goods.
The Fundamental and Advanced Features of the Packers and Movers Mobile App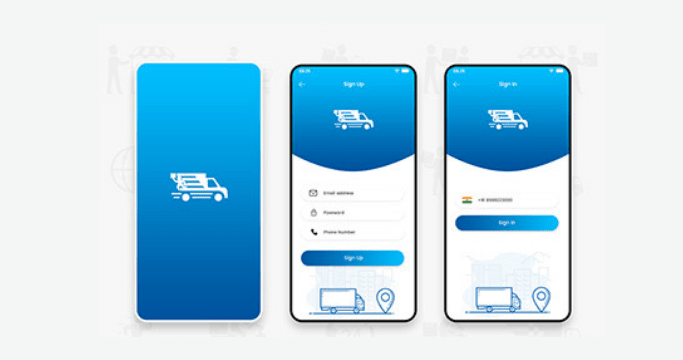 Signups & Logins via Social Media
The social network signup feature allows people to sign up for the app instantly and easily with an established social media account. This simplifies the registration procedure and adds flexibility for customers.
These updates are critical warnings about the verification of an application, a submitted request, and so forth that appear on the users' mobile devices, supplying them with all relevant details.
Navigation Inside the Application
This is a critical function that allows consumers to monitor the shipment's precise position and provides an approximate delivery period. Alternatively, it assists distribution suppliers in determining the accurate placement of consumers and delivering the cargo to its target.
The in-app chat function enables consumers and service providers to communicate seamlessly. Customers may use this feature to resolve any further questions they might have about the shipment's pickup and distribution.
Customers and service providers can enhance the contact experience much more by using in-app calls protected by phone number masking.
Insurance for goods is a widely sought-after feature that protects the whole inventory being delivered. The device is combined with third-party software that enables the service provider to access a chart of all the transported items. Goods Insurance also protects against general liability, cyber-attacks, and disruption during transport.
Advanced record processing enables more effective company processes and research.
Advanced CRM convergence with new smartphone applications is critical for increased coverage and marketing effectiveness.
A robust CMS framework allows the administrator to monitor all the app's information. Additionally, this function enables service providers to maintain their profiles by listing their contact information, prices, the types of services they provide, and much more.
By incorporating marketing resources into the packers and movers app, you will increase the effectiveness of your marketing activities by conducting several marketing campaigns. Additionally, consumers may be notified of special deals through SMS, phone call, or email.
This functionality allows consumers to monitor the service provider's position in real-time. Alternatively, it enables drivers to ascertain the direction of their passengers. Thus, real-time monitoring enables more efficient long-distance freight transportation.
How Much Would It Cost to Develop a Mobile App for Movers and Packers?
Calculating the exact cost of designing a movers and packers application is not simple. It depends on various variables, including the nature of the application, its difficulty level, and the number of dedicated platforms available.
Another critical aspect affecting the cost of construction is the nation chosen. Labor costs vary by country and territory. For example, in the United States, the minimum wage is about $100 per hour. This minimum wage is about $75 per hour in Eastern Europe. In contrast to these, India's minimum labor charges are very fair.
You will easily find talented and seasoned mobile application designers and developers operating for between $22 and $30 per hour in India, making it a highly sought-after destination for outsourcing application development requirements. Thus, an average packer and mover's mobile application will cost between $15,000 and $30,000 for a single platform (Android or iOS). However, choosing a cross-platform software with enhanced functionality will add up to $45,000-$50,000 to the bill.
Wrapping up
Building an app like mover and packer needs much time. First, collect the conditions and then evaluate the consumer demand. Mover and Packers is an innovative business practice and the latest trend in the foreign sector.
Any queries about Packers and Movers App Development? Feel free to fill our contact form to get a free consultation from our experts.