It was difficult to imagine that we might ever get a ride from our front door a few years earlier. That is without even raising our hand to get a ride. It was unthinkable to get the food you wanted to be shipped to your house. After the inception of Uber, Lyft, and other on-demand doorstep providers, both of which are accompanied by an app, everything seems to be easy. All businesses have had tremendous success by placing goods or services at our fingertips and providing us with just what we want when we want it. With the growth of on-demand technology, entrepreneurs are racing to come up with new ways to link customers with goods or services while still making their lives easier. An on-demand fuel delivery app is one such concept that is gaining traction these days.
 What is an On-Demand Fuel Delivery App, and how does it work?
There are now applications that enable users to have fuel shipped to their cars at a specific place or address. Users can easily register and place an online order for fuel delivery by sharing their position with these applications. The customer will then watch the fuel distribution route and make better use of his or her time by not having to stand in long queues at gas stations.
Opportunities for Businesses or Startups with On-Demand Fuel Apps
Almost all oil and gas companies are concerned with fuel adulteration. Fuel adulteration is the main explanation why you will hear locals recommending which gas stations are decent and which are poor.
You will greatly reduce the problem of fuel adulteration by creating an on-demand fuel distribution app. On-demand fuel distribution necessitates the use of vehicles to complete the operation. And you are loading those trucks nearly every day, which stops petrol from being stored for an extended period and eliminates the risk of adulteration.
Uber lets users save a lot of time. On schedule, a cab arrives at your doorstep. Users do not need to think about driving to the main lane, waiting for a taxi, or getting to their destination. Just the same, they are concerned with making it on schedule. Uber avoids the whole procedure and saves a lot of time by delivering doorstep taxi services. On-demand fuel distribution has a common purpose in the lives of consumers.
Another requirement you are meeting with your on-demand gasoline app is emergency fuel supply. People sometimes run out of gas in the middle of the road where there is no local gas station. People can even discover that their cars have run out of gas in the morning, as they arrive at work. In certain situations, you can have emergency fuel on demand 24 hours a day, seven days a week.
Features to Use in an On-Demand Fuel App
To build an on-demand fuel app, you must include three groups when counting features:
1) Features that are focused on the customer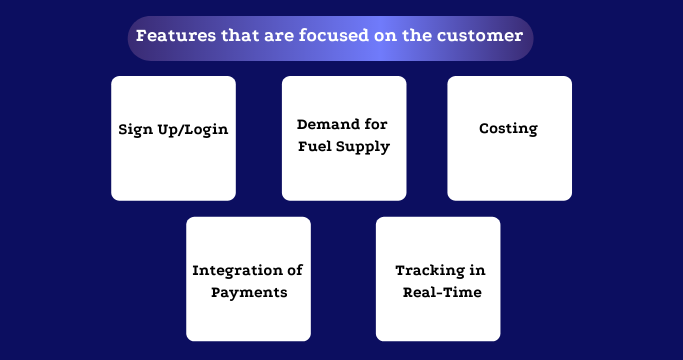 The registration procedure for an on-demand fuel delivery app should be simple and fast. Customers will be offered the choice of registering with their email or social network profiles.
It is the application's most significant function. The consumer has the option of selecting the fuel form and amount, as well as the customer's position for on-demand and planned deliveries.
The consumer will display and check the overall price of their order after specifying the fuel form and quantity.
The consumer will pay for the fuel supply using a variety of payment methods, including debit/credit cards, online banking, and pocket.
For the consumer, real-time tracking is an integral function of an on-demand fuel supply application. Such that the consumer can keep track of the fuel distribution order with the driver's name and track the driver's fuel tank truck in real-time on the map with an estimated arrival period.
2) Features that are focused on the driver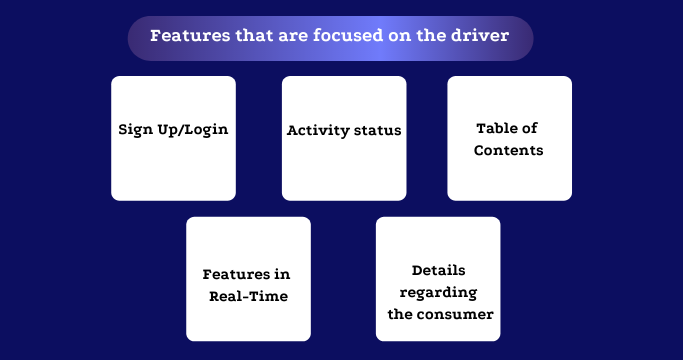 The driver can download and update various versions of the program, as well as register or login for it.
The driver may include their service availability state, which enables them to toggle their working mode's availability status on and off.
On the dashboard, the driver will see the ordered, planned, and completed deliveries, as well as the earnings.
The driver has the option of accepting or rejecting the obtained offer, as well as tracking the order in real-time.
Details regarding the consumer
The driver may access the customer's contact details, such as name, phone number, venue, and fuel, after approving the order.
3) Features centered on the administrator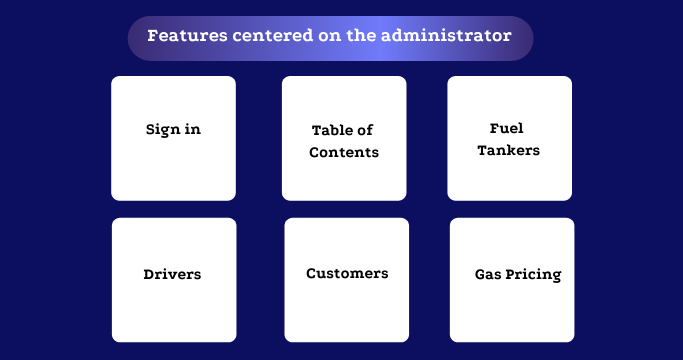 The web-based panel helps the user to log in safely.
This site panel's statistics can be used by the administrator. Complete petrol tankers, total drivers, and total customers are examples.
In the admin window, the admin will quickly install or upgrade fuel tankers.
In the admin window, the admin will control the drivers and their real-time positions on a monitor.
With the settings page, the admin will handle registered customers.
In the admin screen, the admin will handle and adjust the pricing of various fuel categories.
The expense of developing an app and factors affecting it
In general, creating a fuel distribution app like Fuelster, or WeFuel would set you back between USD 15K and USD 20K. The following are several considerations that may influence the cost of developing a fuel delivery app.
The functionality of your app is a big determinant of your project's production expense. To the web development company or freelancers, you must explain that you choose to make an app.
The nature of the functionality you incorporate into your software influences the production costs as well. Screens, keys, and logic both play a significant role. Depending on the application's difficulty, developers can need to start from scratch.
Infrastructure on the backend
The backend is a structure that aids your developers in transferring data between the software and the database. Its analytics will assist you in keeping track of your users' activities. The expense of a backend structure varies depending on how many criteria you plan to track.
A key aspect of the product creation phase is selecting the best site for the app. When developing an app for your company, you must consider factors such as market share, app fragmentation, complexity, prevalence, and so on. The expense of construction is often affected by different programming languages and SDKs.
The development team's location
Another significant aspect influencing your product creation is the position of the web development team. The cost of developing a fuel delivery app usually ranges from $25 to $250 per hour. Companies in the United States and Canada will bill you between $155 and $250 per hour.
If you recruit Australian developers to create your app, you should expect to pay between $50 and $150 per hour. If you choose to go for an affordable price, you can hire dedicated developers from India for $30 to $50 per hour.
Final Thoughts
These days, using online on-demand content to hit your audience is a brilliant way to do so, and you should not pass up this chance. Developing an online on-demand fuel delivery app is not a simple feat, but with the tips above, you will be able to build a fuel delivery app that will easily communicate with your target audience.
If you are looking for mobile app development then feel free to contact us today.