Pushing digital projects is difficult for startups and SMBs due to limited resources and rigid organizational structures. If done correctly, it may assist in establishing a competitive advantage, provide genuine value to consumers, and define new monetization methods.
Software became necessary as the industry adopted the digital revolution and how to get it arose.
Not every industry has the resources to create software to manage operations or digitalize products. Businesses of all sizes may benefit from outsourcing software development.
Why Hire Offshore Developers from India?
Outsourcing software development beats in-house development on a large scale. Here are the reasons:
It's a low-cost product development method.
It's a low-cost product development method. According to Quartz, 46% of businesses fail due to a lack of funds. This is unlikely if you employ offshore developers. Instead of producing an MVP, you won't be paying for office rent, wages, insurance, vacations, or recruiting expenses. Offshoring to India reduces costs without reducing corners. It offers flexibility in expenses via a reduction in the cost of employees such as recruiting, supervision, wages, and other perks. It also lowers the costs of establishing new equipment and depreciation of property.
Efficiency and time savings. 
One of the main benefits of outsourcing the task to a Web Development Company is Efficiency and time savings. By speeding up the development process, a team of offshore developers may save you money and time. Time is essential for every company since they are born in a competitive environment. You won't have to train new workers with a dedicated development team since each outsourced developer already has the expertise. Indian outsourcing firms are known to have a congruent project strategy before they start. It is thus supplied on schedule as planned. The agile approach plays a part in the timely implementation of the project.
Changes in project stage and scope will need scaling your internal workforce and technology stack. But in a startup setting, such changes are often. Therefore adaptability is critical. You may switch between projects and projects if you work with an outsourced developing company.
India's offshore software development workforce is usually seasoned and would have worked before with many other businesses. This helps them grasp the outsourcer's needs and uses the most flexible technology to get the best outcomes for this specific job. In addition, Indian businesses have a reputation of being extremely helpful and fulfilling client requirements with top-quality services with intact fundamental knowledge.
How to Hire Outsourcing Developers in India?
Follow this Checklist for Outsourcing Web Development for your startup: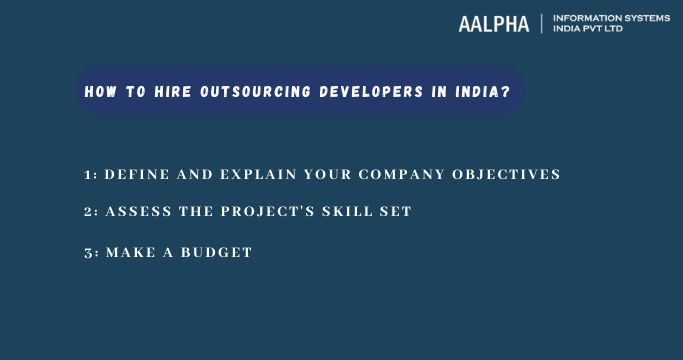 Define and explain your company objectives.
Before outsourcing developers, define the issue you want to address with your first MVP. Determine your product's main objective, divide it into smaller, quantifiable milestones, and assign approximate dates.
Assess the project's skill set.
Determine the technological stack(s), knowledge, and skills required for your project. Next, identify the project's roles. Do you require developers, PMs, QAs, or BAs?
Budget is frequently a stumbling block for startups, so prepare meticulously. Define your starting capital and places where you may save money, focusing on the most critical. Find out who will see your MVP first.
Gather data about offshore sites. There are several offshore nations to select from, each with its benefits and drawbacks. Select the nations nearest to you in terms of time zone and culture, as well as the most excellent value for money.
Problems in Offshoring 
Outsourcing offshore developers are helpful for your startup, but be prepared for the following challenges:
Central Europe and South-East Asia are popular IT outsourcing locations (especially India). If your offshore development team is in a different time zone than you, it may be difficult to coordinate their online times. Choosing the correct time zone may help you overcome this obstacle.
The time difference is more than ten hours when hiring an offshore team of developers from India. It implies that your offshore team members will be sleeping when you start working, causing delays. Modern time zone control solutions may assist you in solving this issue regardless of where you live.
The proliferation of offshore software development providers may offer both advantages and uncertainty. To recruit offshore developers and establish confidence with them is difficult. You may spend hours on platforms researching outsourcing companies and yet choose the incorrect one.
Final Verdict
A software development company should employ an offshore development staff. Founders save money and time while getting a high-quality MVP. You must first establish your needs, identify the necessary skill set, budget, and search for offshore sites for a startup. Oracle, HP, and Cisco have all shown interest in investing in India due to its many potential benefits. India has a digitally-ready economy. Software development and tech support outsourcing to India has several advantages. Long-term advantages include increased earnings and focusing on core company sectors, in addition to the short-term advantages mentioned above. But it doesn't imply it's risk-free.
Planning to outsource your IT services? contact us and get a free quotation today.