The necessity to employ a web designer or a related agency will always be there, especially when you want the best designs for your website. In this case, you'll find yourself scheduling a consultation call with a skilled web developer in your locality or overseas. Consultation calls with different web developers require you to address other things – mostly cover up anything and everything you will require in your website.
The hassle and tussle of establishing and conducting research on whatever you need for your website to bring ideas to reality are critical. But even after gaining everything you think is fit to address, are you good enough to work together with the web designer in the first place? It is among the critical things you should always mind in your journey to designing a powerful website. In this piece, we shall cover crucial things you can ask your web designer during a consultation call – therefore, don't be stranded on what to ask, what not to ask and what to seek clarification from.
However, before we break down this bone of contention, it is essential to understand that most web designers and developers are genuine and kind enough to schedule complimentary consultations for potential clients. With the practical side labeled on some of these developers, it isn't a good idea to fall for that trap – free consultations don't necessarily mean the client will give you recommendable work. If you want to address your web design needs, you have to take a crucial step at the consultation stage – consult through direct questions that hit the core aims of your project. Let's sample some key questions and dig deep into their core.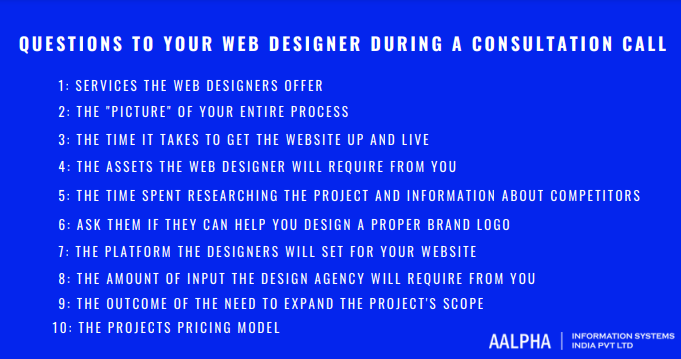 Services the web designers offer
One of the most incredible tricks to understanding your web designers' significant focus areas is to first ask for the services they offer. At this point, you will know whether the developer is the right one for you. However, even with the counter-intuitiveness in this quest, you must understand web design often requires a top of other services to offer. Perhaps your web designer can stretch their services further to provide extra digital marketing and maybe some branding services.
The designers offer many more services, including logo design, video production, social ads, and content marketing. Do you need to couple all this on a single web development company, or do you need to split it into different groups from the web designer in your mind? It speaks volumes of the necessity of asking "services offered" questions. You will make up your mind at this stage to establish whether the design agency will handle everything together. You must understand the essence of marketing service provision by web developers.
One crucial reason you might consider extra marketing services from your web design agency is the need to increase or generate leads through the website quickly. Increased website leads and revenues are significant anticipations, especially when your website is live. Therefore, this will always be among your considerations and thus the need for the quest of services provided. It makes more sense that your website developer handles other related services associated with a website they developed for you.
Once you agree with the professionals, they will stretch even a different extent of exploring the markets. Their central aim is to understand what is fit for you and the overall strategy needed to beat the rest in a competitive market – they might give you this information once you trust them to handle all these related services.
The "picture" of your entire process
Among the most critical and helpful questions to consider on a tough consultation call is what the entire process you want should look like. While web design might entail development by the designer, you must understand the processes your web designer should undergo to attain proper functionality. Your primary intention is to find the best web designer to work correctly on the design and development of your website – these call for a proper understanding of the entire processes associated with developing a successful website. Don't just ask your designer blindly; leave everything for them to understand. In addition, the whole web development process requires efficiency, and it should be customer-centered. It should involve its owner during the entire design and development process.
Web designers will come up with different and complex terms to understand, so they need to ask what those terms mean. It doesn't boil down to web development jargon; even other processes they might tell you might sound unclear when you don't have a clue about web development. Nevertheless, the question is crucial and requires you to pose more questions about the processes your web designer will try to explain.
Processes undergone in web design and development can be like any other. Thus, you must dig deep into these processes to ensure developers understand what they will be working on in each process. Then, let them explain the entire design workflow to address your potential customers' needs once your website is up and running.
The time it takes to get the website up and live
You must understand the timeframes your web designers and developers can take to make your website live and available to customers. Different designers and developers have different periods in which they can complete other projects – some will do it quickly, and some will take their time before they set the website live. The timeframes of developing your website vary depending on the nature of the project and its size as well. One of the key reasons you should ask this question is that web designers and developers have their schedules – and maybe you need this task completed quickly as a top priority. The project scope is a great determiner of the time taken to complete the website. However, the developer's efficiency and experience give an upper hand in speedy project completion.
The assets the web designer will require from you
There are definite provisions your web designer will need from you to meet your website's fundamental needs. Even if the designer won't talk about this in the first stage, it is always essential that you consult with them earlier. In addition, there is significant variance in the assets your web designer will need – some of them include personal graphics and photography. Having a proper understanding of these things will also help you check out what the extra costs could be. Therefore, it is essential to prepare all these assets beforehand to fasten the entire process of development.
The time spent researching the project and information about competitors
A good web designer or simply a web design agency won't rush into starting your project. The hasty options might cause them to leave out some critical stuff. Therefore, a good website doesn't just emanate from an empty place – it calls for in-depth research. It is, therefore, good that you understand the wide range of processes your service provider will undertake to analyze the entire macro and micro requirements and environment associated with your business. The research phase is critical; therefore, you need to understand more about what they can do about it and how they will spend time on the stage. It is also essential that you know more about competitors.
Ask them if they can help you design a proper brand logo
Your logo's brand is crucial to your identity in providing some particular service. Therefore, it will always be good if web designers can offer a good logo design for your website. Proper design starts with a logo – if you let them handle the logo for you, they might also give you reasons for their choice of logo, and you will understand why it is crucial in the entire process of web development. Letting the designers work on your project also ensures the design language's consistency, thus ensuring brand consistency.
The platform the designers will set for your website
Many platforms support the hosting of websites, and each has its advantages and disadvantages. Therefore, it is crucial that the designers explain to you their choice of these platforms and why they think it is efficient for your project.
The amount of input the design agency will require from you
You are part of the team involved in the entire process of developing the website. It will help if you ask the designers how much input they might require from you once the design and development process begins. Doing so prepares you psychologically to work on things that might be of the essence at a later stage.
The outcome of the need to expand the project's scope
At some point, you may need to expand your project's scope later. Therefore, you must consult with the team to let you know about the same. However, it shouldn't be a big deal since it is easy to foresee the same during the research stage – therefore, the designers will help you considerably understand the outcome of the need for expanding your project's scope.
The projects pricing model
You must also understand the model used in pricing the entire project. Finally, it would help if you got more clarification on the exact cost and the pricing model the web designer will use –hourly, value, or by milestone. It is then that you will agree on which could be efficient.
Conclusion
There are many things to discuss during consultation calls with web designers. It is thus crucial to consider the above essential questions so that you land the best web designer who will work on your project as desired.
Finally, if you need a free consultation for your web design project consider to connect with us today!