Your software development project's Request For Information is where it all begins. To provide customers with a supplier of an outsourced service that complies with their requirements and objectives, the Request for Information element frequently enables project initiation between two partners. In following the RFI approach, potential suppliers will respond to you quickly and significantly. This article will thoroughly discuss the creation of an RFI for software development. It is, therefore, essential to focus on the proper procedures that focus on the success of RFI for software development. However, let's first gain a better grasp of the Request for Information before moving on.
Understanding Request for Information (RFI)
Organizations send potential suppliers an RFI to learn more about their skills, size, expertise, and price. It also applies to items and services. Organizations will decide which provider is ideal for them based on the insightful early data obtained. Since RFI eliminates organizations that fall short of given criteria and encourages competitiveness, comparing various businesses is simpler.
Conscious customers may want to understand what the service provider does in real-world situations. Therefore, it is essential to learn ways a supplier could use to solve an issue or meet a requirement, not just receive a breakdown of work items. It is also advantageous since clients may determine the appropriate managerial style and approach.
But only some businesses are willing to heed customer demands. Because a full action script requires extensive work and can thoroughly reveal the objectives they are interested in achieving. The service provider business might be less prepared to disclose its highly dependable internal operating procedures partially since it thinks that such inquiries may occasionally be "trickle testing" by rival companies or merely because it is too busy finishing the task for a client who is not yet prepared to enter into a legal partnership the deal.
How to Write RFI for Software Development
There are several ways to draft an RFI. Every organization chooses the specific information it needs from a range of suppliers. It also decides how much data it wants to look up. But it does not constantly imply that every single RFI is fundamentally different.
In your RF, it is essential to include things like:
A privacy policy that refrains vendors from disclosing customer information with outside parties.
Primary business data, etc.
Considering this is an official document that may be given to partners overseas, remember that the reader shouldn't use complex or simple-to-misunderstand literary language. Instead, keep neutral terms concise, and refrain from raising issues unrelated to the project or item.
You must adhere to the following methodology and structure to write a proper RFI for software development.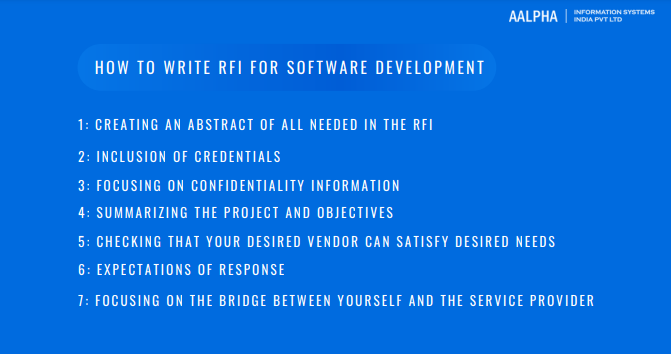 Creating an abstract of all needed in the RFI
The organization's history, targets, objectives, and privacy procedures should be presented at this stage. The requester's identity and desired outcomes are summarized for the supplier at the close of this phase.
Credentials are undoubtedly a provider's first line of defense against inferior parts. Potentially incorporated here are the skills and credentials required for the task. Just write out any of your worries or demands, including the number of people involved, constraints on technology stack, operating systems, amount of experience, etc.
Focusing on confidentiality information
The highest care must be taken to maintain confidential information since it is valuable. When outsourcing software development, no business wishes to put trust in an ineffective individual and suffer severe repercussions due to knowledge gaps.
Each corporation has distinctive methods for defending against competitors. And the legal paperwork that achieves this precisely is a non-disclosure agreement. An enforceable document called the Non-Disclosure Agreement must be executed to acquire a confidentiality agreement quickly. While engaged in this area, describe your privacy procedures about your unique and intellectual property.
Summarizing the project and objectives
You should include the things you need and the products you want. Finding out which remote software development company would be most effective and cost-effective in resolving your issues may be the goal of the investigation. Your aim should be stated as clearly as you can at this stage.
If prospective vendors want to understand your goals, you must be as specific as possible with the material. Therefore, it's essential to establish some details immediately, such as the project's scope, the software requirements, and if you'll need to hire a complete team of employees or just a few helpers.
Checking that your desired vendor can satisfy desired needs
How do you determine whether the vendor you want can meet your requirements? Referral data from your former partners helps you understand how things function and what it takes to do business. Ask deeper inquiries regarding the vendor's facilities' working procedures, approach to project management, quality control equipment, and software development techniques to determine the company's sustainability.
At this point, the evaluation criteria are the basis for your expectations. However, this part needs to include information about the time as well.
After gathering the necessary data to make request management more adaptable, consider employing the appropriate selection methods for demanding deployment needs like Request for Quotation or Request for Proposal.
Focusing on the bridge between yourself and the service provider
The final and most important step is contacting the company that provides the desired service. Paying attention to this crucial component is crucial since the person acting as a project connection will take on any challenges, issues, questions, or requests to relay your recommendations to the team. Check to see whether they are in a reasonable frame of mind to listen and make judgments. During further negotiations with suppliers, kindly provide your contact details and those of your representative after the introductory section.
Conclusion
Be specific and to the point when expressing your needs and asking questions since RFI allows software suppliers to demonstrate their knowledge and experience. As a result, you may choose the best software provider and establish expectations for the software development project with a well-written RFI.
Writing an RFI for software development takes careful thought and attention to detail. Following the preceding steps ensures your RFI is well-written, comprehensive, and catered to your unique requirements and objectives.
Finally, to know more connect with our offshore outsourcing company – Aalpha information systems!
Read Also: NDA for app development