Gone are the days when organizations, companies, and individuals bought software deployed on CDs or any other kind of media. The technological work is fast-paced and seems to be evolving day and night. Nowadays, the software isn't a thing to buy, install, and update. With the increased rate of cloud computing that has taken over the technological sector to a greater extent, we see a total change in the accessibility of software products. Driven digital transformation has also changed the phase of the software. The entire revolutionary model is termed as SaaS.    
It is an abbreviation for Software as a Service. Usually, it is a public cloud service that entails software launches by third parties. The launches are done on a subscription basis over the internet. SaaS doesn't work offline and cuts off the burden of creating and managing in-house software. There are several instances of SaaS, and these are not just limited to Trello, Slack, and others.
Coming up with a Saas idea
There are increasing SaaS churn rates that demand to make a good impression to attract first time adopters; there is a need to come up with a robust and powerful idea on SaaS to attain some considerable difference. Therefore, any individual should be in a position to introduce a new idea or feature into the game. The introduced idea should be thought of from a greater dimension. Furthermore, there should be validated proof of the concept at hand, and the idea should entirely solve the problem at hand.   
We all want our concepts to be successful before building a SaaS product. But this calls that we have a proper understanding of some of the reasons why SaaS fail and also learn how to avoid them. When we learn about some of these reasons, then definitely, we will have a proper understanding of what can hinder the process of building a SaaS product. In turn, we find out easy ways of maneuvering through and coming up with a successful SaaS project. Here are the reasons that may lead to the failure of SaaS.        
Reasons For Failure Of SaaS & How To Avoid Them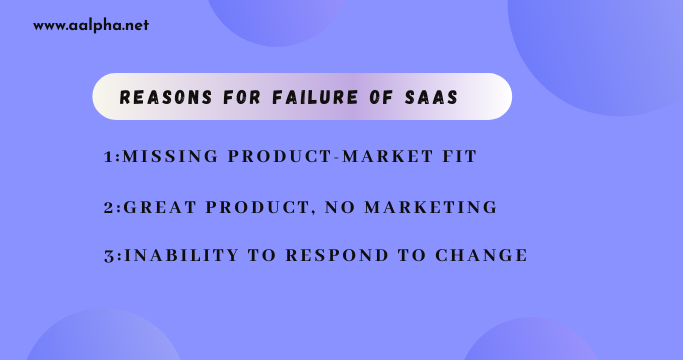 Missing Product-Market Fit
A product that is fit for the market is capable of amicably solving problems of dedicated audiences. If there is an issue arising and you have the power to solve it, then you can be deemed to have achieved product-market fitness. Such cases entail your customers being turned into your marketers. Just by word of mouth, they can market your services. In the case where you fail to address the problems arising and then develop a SaaS solution that doesn't solve everything effectively, then people will always anticipate failure.   
But handling this is even much easier. You need to conduct thorough market research. Before thinking of any given SaaS idea, it is of great importance to understand all the needs and requirements of your prospective audience. Think of the best ideas and jot them down with the best ideas being prioritized first. Take a thorough exploration into already existing SaaS businesses and identify some of the ideas incorporated and try to merge them with your associated ideas. You can even go to another extent of analyzing where the businesses missed out and incorporate newer ideas to enhance the experience.   
To gain newer ideas, it is vital that we create discussion forums, combine development teams and stakeholders, and go the extra mile of validating the need for a unique SaaS product in the market.
Great Product, No Marketing
Most SaaS businesses stick to a different approach that is not just promising. Usually, the businesses are used to developing a product, agile testing it, and launching it to the market. The firms will, after that, announce the product on social media platforms such as Twitter and wait to see it taking over the market as the best product. But surprisingly, things don't work that way. The idea here is that businesses should always stick to outcomes rather than project mindsets. It is of greater essence to also put marketing into consideration. Even though unique products have higher chances of being noticed, other greater ones end up unnoticed. This, therefore, calls for an emphasis on marketing products regardless of whether they are of greater or lesser importance.   
To solve this problem, you can always prepare a marketing plan by conducting an in-depth exploration into customer service reps, sales, and marketing. Whenever you opt for any content, always focus on Search Engine Optimization. You can publicize your SaaS offering through social media posts, emails, guest posts, and much more. You can as well take a further step by venturing into influencer marketing. To create the attention of your target customers, you should always focus on giving out free trials. Always sweet talk to them and explain to them the need to try the product, the advantages that come with its use, and the end the valuable results they will get from your services.   
Before you build a SaaS product, it is also essential to consider exploring how the product will make a difference in people's lives. Also, adhere to the low-price low-complexity rule. It will help if you are also prepared to build healthy relationships with your early adopters.  
Inability to Respond to Change
Change is inevitable, and therefore we should always anticipate changes in our day to day lives. The ideal way to deal with revolution is to learn how to respond to it. Therefore, before you think of building a SaaS product, it is always good to focus on change that may happen in the near future. Failing to showcase agility skills when handling change might lead to product failures. It is, therefore, essential to consider employing the best agility skills when handling changes that may occur to your product. Failure to consistently respond to feedback from your newly launched product can likely bring about failure. Therefore, for relevance, you need to stay updated, which changes and handle them effectively.    
As a way of responding to future changes, you can always opt to launch an MVP before focusing on a large scale product. It is the best way of bringing loyal customers closer. Again, before you set up a SaaS product, you should always consider building the product by adhering to the microservices architecture. Microservices give you the best way of iterating through the whole product and making the desired changes without ease. Most essentially, allocate enough time to the process of building your SaaS product.
Here is how to ensure the process of building your SaaS product is a success 
Prepare interactive videos that advise customers and even bring them closer. These videos are essential and help your customers to understand how the user interface works. There are more ideas you can also incorporate in those videos.
Effectively and considerably plan your entire pricing model. Ensure that your pricing models are considerable and better than those of your competitors. What you offer should be understandable because complex pricing models can send customers away because of a lack of proper understanding.
Set your focus on enhancing customer experience. Remember to keep your customers at the center of the entire process. It will be best if you always try to make a responsive UX as well as seamless sign-ups.  
Ensure that your customer support is valuable and reliable. Customer support if a valuable factor that will always move the success of SaaS to outstanding levels.
Frequently and on-time updates are essential and give the best to your customers. Always fix bugs on time and stay ahead of the competition.
Another critical aspect to remember is the operation of your product under lower bandwidths. Always ensure that your SaaS product operates on lower bandwidths. This is to ensure that it operates effectively in cases where there are lower internet speeds.
Plan on strategizing partnerships to extend the boundaries of your user base. You can also do so to expand your reach worldwide.
Your product portfolio is of greater essence. Therefore, it is essential to ensure time to time analysis of your product portfolio. It would be best if you always went for rightful decisions when filtering out the services and offerings you will provide.   
Always strive to provide frequent integration for your SaaS product. This helps you to offer an Omni-channel experience to your customers.  
Conclusion
Software as a Service is built on a public cloud model and provides software through the internet. All these are achieved through subscription on a durational basis. SaaS has gradually evolved, and it is now scaling to unmeasurable heights. But it is always essential to focus on building a powerful SaaS product that will meet all the needs of customers. Since customers are the central focus, all the products should always be centered on providing the best for all users. To achieve all these, you should put in mind some of the considerations highlighted in this piece.
Also read: How to Develop a SaaS Product | Saas development costs
Hope you've got the idea, for more information feel free to contact Aalpha.