PHP programming has led the way for optimum websites that meet your and your consumers' requirements. It quickly became one of the most vital languages for scripting. CakePHP, Laravel, Symfony, CodeIgniter, and Yii are just a few of the top PHP frameworks that have emerged since PHP's popularity soared.
All these programming languages seek to simplify and speed up the completion of web development projects.
The IT ecosystem employs a large and growing number of experts. Particularly in India, where software engineers are in demand.
How to Hire Best PHP Web Developers in India
Hire Certified PHP Developers from India
Beginners, Mid-level, and Advanced Developers are three kinds of Indian developers based on experience and technical competence.
Hiring new PHP web developers for a complicated project will not be optimal. They need experienced developers' supervision and lack the necessary exposure to complete projects successfully.
Complex projects need qualified PHP web developers at the mid-to-senior level. They can not only address logical and conceptual issues but also grasp the project's nuances.
Where can on hire PHP Developers?
It's also vital where you recruit developers. When you have a great concept, you need to collaborate with the finest web developers.
Similarly, you would need to employ PHP developers in India. Among the many choices accessible in India, the first source is industry references.
You may also use a web portal to find out more about each developer. The third alternative is to employ developers from an Indian offshore software firm.
Flexi-Hiring
Using this approach, you may employ PHP developers and pay them depending on the number of hours they spend on your project. This is a simple and yet, at the same time cheapest method to get to use remote PHP developers. Contact an offshore software development company and ask for PHP web developers to help you achieve your business goals. Training does not need time or money. You also don't have to pay an in-house developer's monthly salary and other perks.
With so many choices to hire PHP developers in India, you need to know your goals and budget.
Know Your Business Needs
Before applying to employ PHP developers from India, describe your business's requirements, goals, and ambitions. Design your layout, state your timeframes, budgets, and your decision to hire a developer.
Making these commercial factors obvious can help you recruit PHP web developers for your project.
Product Needs
If you have a unique niche need, you will need to employ specific PHP web developers. These will depend on the client's product needs if the customer requires them.
Hire dedicated PHP developers from India who has extensive expertise in building unique, safe, resilient, and high-performing PHP web apps.
PHP Integration and Update – To integrate and upgrade your current PHP program.
Hire PHP developers that are experienced in building minimum viable products for small to big companies.
Building bespoke CMS & Frameworks utilizing MVC design gives customers modular, reusable, and maintainable code.
Cloud services such as PaaS, SaaS, IaaS, and other backend solutions based on PHP are required.
API Integration — Look for a PHP development company that has studied internal, private, and public APIs to offer seamless experiences and third-party service integration.
Do some technology research.
To employ a professional PHP developer, you must be familiar with the technology. This will help you explain essential needs, features and even provide technical advice.
Decide which frameworks or platforms best suit your needs before hiring PHP web developers from India.
Portfolio Review
When it comes to recruiting PHP developers, the first step is to examine their portfolios thoroughly. Examine their previous work, accomplishments, and web development skills to determine their suitability. More importantly, when it comes to hiring PHP development companies, check their previous client's reviews on several sites like clutch, good firms, and others.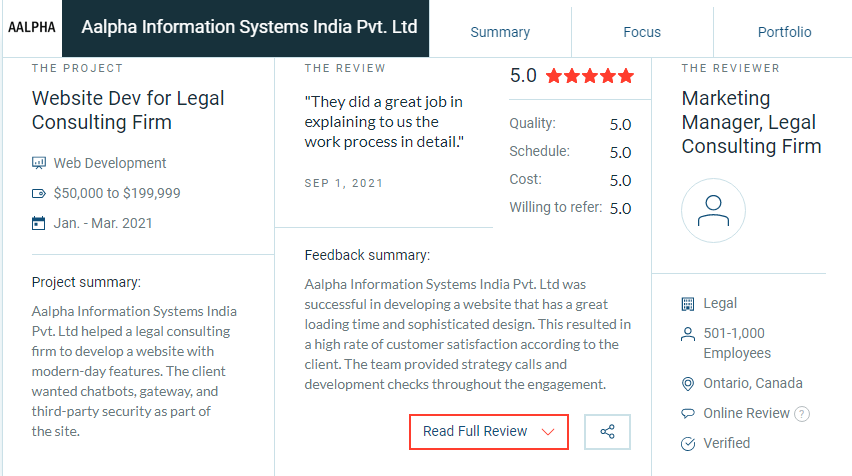 Communication skills
When you have a team of experienced PHP developers, it's time to start working together. Create a direct line to your PHP development team so that the whole website creation and deployment process is straightforward and meets your requirements.
Daily communication with your team will help you stay on track. Talk to them about the job. Ask them if they have any problems grasping the idea of your product.
Your in-house and offshore PHP development teams must be in sync. During the recruiting process, remember that these offshore dedicated developers are a worldwide extension of your company.
Assess your feelings while chatting with a prospective developer. Make sure your hired Indian PHP developer is patient and enthusiastic about your ideas. He should give you comprehensive comments.
Final Thoughts
After reading the previous points, you must have realized that PHP development is all about time. The PHP web development business must be as efficient as PHP.
The team should include professional PHP developers who are familiar with all necessary technologies and PHP frameworks. You don't choose a PHP web development company to provide a web project on schedule but deliver the most acceptable outcome.
Planning to hire PHP programmers at affordable rates? Feel free to contact us and get a free quotation today!