The property and lease management sector has seen a tremendous digital revolution in the past ten years. Today, property owners, real estate companies, and property managers use sophisticated software solutions to organize their businesses and boost productivity. Among these options, property and lease management software has become essential for efficiently managing real estate portfolios, lease contracts, tenant data, financial activities, and more. However, before delving into the advantages and features of property and lease management software, it is crucial to comprehend the price of developing and putting such a system in place. In this article, we'll carefully examine all the factors influencing the cost of developing property and lease management software, including short-term expenses and potential long-term benefits for organizations.
Understanding Property and Lease Management Software
Property owners, real estate firms, and property managers may manage their portfolios, leases, and tenant-related chores more effectively with the help of property and lease management software, a fully digital solution. Lease monitoring, rent collecting, administration of maintenance, storage of paperwork, tenant dialog, financial analysis, and many other functions are included in this program.
Factors Influencing the Cost of Building Property and Lease Management Software
Flexibility and personalization
Scalability and customization are two essential elements that affect how much it costs to develop property and lease management software. Every real estate firm or property manager has different needs and operational procedures. As a result, the software must be both scalable and configurable to meet the organization's changing demands. Unfortunately, customization often calls for extra development effort, which raises the program's overall cost.
Features and functionality
Building property and lease management software can come in various features and capabilities. Essential software can include lease monitoring and tenant administration, while more sophisticated programs offer powerful financial analysis tools, reporting capabilities, document management, and system integration. The software will likely cost more the more complete and cutting-edge the features are.
Third-Party System Integration
Several systems, including accounting software, customer relationship management software, and facilities management tools, frequently handle the administration of various areas of a real estate company's operations. For smooth data flow and process automation, it is crucial to integrate the building property and lease management software with these current systems. The cost of software deployment, however, can be considerably impacted by the labor and integration complexity required.
Interaction Design and User Experience
Its user interface and user experience greatly influence software acquisition and usefulness. Enhancing productivity and reducing software users' learning curve are possible benefits of a well-designed, simple, and user-friendly interface. However, it takes knowledge and design work to create a user-centered, aesthetically appealing UI/UX, and these things might raise the cost of the product as a whole.
Deployment in the Cloud and On-Premises
The distribution strategy of building property and leasing management software's price is also impacted. Easy accessibility, scalability, and lower expenses for the IT infrastructure are benefits of cloud-based systems. On the other hand, on-premises implementation gives enterprises with specific security or compliance needs more control over data and may be preferable. Even while cloud-based solutions often offer cheaper initial costs, ongoing subscription fees can build up over time.
Support and Implementation Services
It takes a well-thought-out implementation plan, data transfer, setup, training, and continuous technical assistance to deploy building property and leasing management software. The software developer or collaborators for implementation frequently offer these services. The length of the service agreement, the quality of assistance needed, and how difficult the program is to deploy all influence how much it will ultimately cost.
Credibility and Experience of the Vendor
The software vendor's track record and experience level are considered when calculating the price. For their software solutions, well-known providers with a track record of success and a strong market position could demand more money. But going with a respected provider frequently has advantages, including dependability, ongoing software upgrades, and better customer support.
Considerations for determining the price of developing a property and lease management software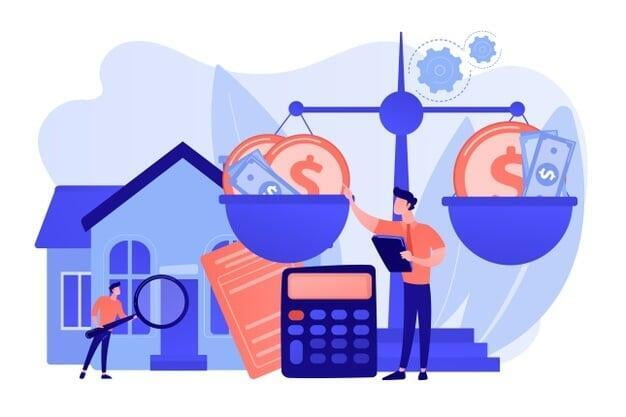 The majority of the entire investment is made up of development expenditures. This includes the wages paid to the team members working on the software's development, such as the programmers, designers, testers, project managers, etc. This price depends on the development team's complexity, timeframe, and size.
Infrastructure and hosting
Reliable infrastructure and hosting services are needed to guarantee the program runs without a hitch. Cloud-based hosting choices like Amazon Web Services and Microsoft Azure provide scalability and affordable solutions.
Third-party services and licensing
Depending on the program's specifications, organizations could have to buy licenses for third-party tools and services, such as APIs, payment gateways, or mapping services. Therefore, during the planning process, these expenditures should be considered.
Data protection and compliance
Data security and adherence to applicable rules are essential due to the sensitive nature of property and lease management data. The cost is increased by investing in encryption, safe storage, and compliance controls.
Price ranges and industry standards
Based on the above mentioned considerations, the price of creating property and lease management software might vary considerably. A straightforward, off-the-shelf solution may cost a few thousand dollars, but a bespoke piece of enterprise-level software may cost a lot of money. A mid-sized company should budget between $25,000 and $100,000 on average for a substantial property and lease management system.
Long-term advantages and return on investment
Considering the long-term advantages and return on investment while building property and lease management software is crucial, even though the initial costs can appear high. Increased operational efficiency, quicker workflows, more tenant satisfaction, lower administrative costs, more accurate data, improved decision-making through analytics, and flexibility to accommodate future development are just a few advantages of using such a system.
Conclusion
Property and lease management software has become a vital resource for businesses in the real estate sector. This system may be developed and deployed for various prices, but the long-term benefits and return on investment transcend the initial expenditure.
Connect with our software development company if you want to build property and lease management software.