Here at Aalpha Information Systems India Pvt. Ltd, we recognize it can be tricky to balance leading a successful business with maintaining an effective web application development firm. That's why we're here to help!  We're a global pioneer in providing IT consulting and bespoke software development solutions. For over 12 years, Aalpha has been transforming businesses around the world with affordable solutions that set them apart from their competitors.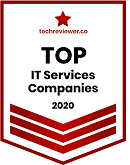 In recognition of our efforts, we've been featured as a leading development firm by techreviewer.co, a verified market research authority. They employ a one of a kind ratings methodology to compare and contrast leaders across a variety of industries.
We couldn't have gotten this far without our wonderful clients. They took time out of their day to rate our services with techreviewer representatives. We were graded along the basis of our quality of service and deliverables, attention to project deadlines, and overall cost for their financial investment. We're happy to say we've attained an excellent 4.8 out of five stars! Take a look at a recent review below:
"We are delighted to be chosen as top web development company from India, we are striving hard to maintain this accolade and deliver top quality solutions to our clients."
                                                                                                – Aalpha Leadership Team
We're proud to receive this recognition and look forward to helping even more clients make their dreams a reality! Drop us a line if you'd like to collaborate on a project today.