Here at Aalpha Information Systems, we know it can be a tall task to juggle your persistent business obstacles, with trying to create top of the line web development solutions to help you and your company get ahead. Have no fear, Aalpha is here! We cater to clients who want high quality solutions, but don't want to spend extra time and internal resources making those goals a reality. 
We're a global pioneer in bespoke software development solutions and can do everything from web and mobile app solutions, blockchain development, IoT solutions, and much more. For the last decade, we've been making sure our clients blossom into the companies they were meant to be. We deliver cost effective and scalable solutions to ensure our customers remain profitable. With time tested quality service, we're confident we can help you meet your goals!
In recognition of our efforts, we've been named a top web development partner by Clutch, a B2B market research firm and blog for businesses. They leverage a unique reviews-based ratings methodology to compare and contrast leaders across different service sectors. 
We recently received a brand new five-star review on our Clutch profile from Tianjin Bright Future Education Consulting Co., Ltd., one of our clients based out of China. They needed a website to enable their students to submit applications and make payments, with a backend that allowed the staff to input metrics and view data as well. We completed the project seamlessly, and they especially appreciated our technical aptitude and frequent updates. Feel free to take a look at their review below: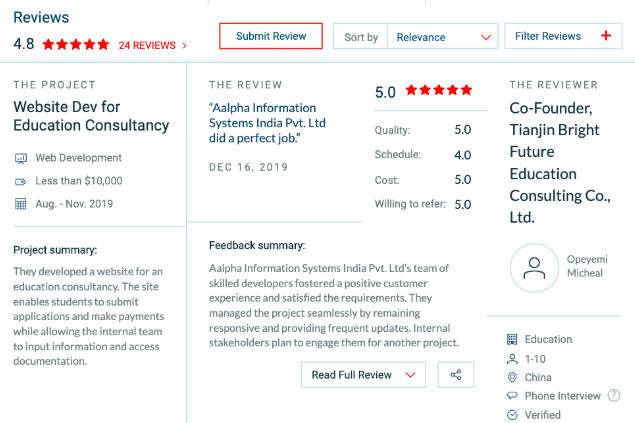 We truly appreciate receiving any and all client feedback. At our core, we serve people and it always means a lot to learn how they feel about what we have to offer. We particularly love to see new reviews on our Clutch profile. These reviews our unique because they give our clients the chance to gauge our performance on the basis of quality, timeliness, and overall cost-effectiveness. We currently have an amazing 4.8 star rating on our profile, and are excited that we've been meeting expectations. 
Aside from Clutch, our work has also received acclaim from The Manifest and Visual Objects. The Manifest, a site that highlights agencies' past projects, lists us on their directory of top app development partners. Visual Objects, a company portfolio platform that helps businesses succeed in finding new partners, names us on their directory of top web developers as well. 
Thank you once again to our customers and to the Clutch team for making this recognition possible. Please drop us a line if you'd like to work with Aalpha today!