If you have your business, then you have outlined objectives for the business. One major element of setting up a business is to see your business grow to extreme heights. Now, you have been working tirelessly to see your business pick up. Finally, you are on the move, and your business is growing day in and day out. You are overwhelmed with the tasks, and you are wondering about the next step to take. Don't think hard; what you need is a professional virtual assistant.
Those who have worked with Vas will agree that it is the best decision they ever made for the prosperity of their business. Now, the whole process doesn't end with simply finding your perfect VA match. It won't be easy to collaborate with a VA, especially for the first time, without putting in place appropriate measures and strategies to create a smooth relationship that will see the work flowing easily.
So, if you have been struggling to work with your VA, or if you are looking for ways to get a professional VA and create a smooth working collaboration, keep reading this write-up as we give you the best ideas you need to implement.
Who is a Virtual Assistant? What are the Duties?
Before we explain appropriate tips to consider when working with a VA, let's, first of all understand who a VA is and the duties such professionals have to perform.
Well, a virtual assistant is a professional working independently to deliver administrative services to clients. They deliver their responsibilities while working away from the client's office. Simply, they work from remote places like home. However, they have all the necessary requirements useful to discharge their services.
While searching for VA talents, be sure to check highly experienced personnel to experience a smooth delivery of services. While working from home is the trendy norm, there are many openings for Vas, including internet marketing, graphic design, blog post writing, content management, and social media management tasks. If you have any of these talents and looking for ways to improve your service delivery, keep reading to also understand how easily you can collaborate with your clients as you enjoy your VA position.
The key role of the VA is to handle tasks revolving around managing email accounts, creating travel schedules, making phone calls, and scheduling appointments,
However, other VAs specializes in marketing services, web development services, social media management, bookkeeping, blog writing, and graphic design, among many other remote activities.
Employers get an easy time when they hire virtual assistants as they can contract services in a flexible manner.
Working with a Virtual Assistant: Pro Tips
Now, you have finally made a decision to hire a VA or to work as a VA. The next element is to put in measures for a smooth working collaboration, and the following tips will come in handy for both parties.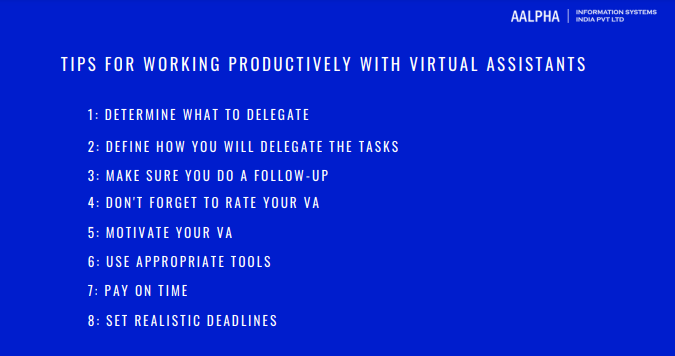 Determine what to delegate
Do not hire a VA just for the sake of it or just because your mates have VA's. Doing this might leave you with frustrations. So, before you make this move, highlight the reasons why you need a VA by listing all the tasks that are hanging and need a VA to fill the position.
Note: While highlighting the list, differentiate the tasks you can handle, those that are taking most of your time, and the ones you cannot handle. This will give you a clear picture of why a VA is needed. In the end, you will know what tasks to give away and what tasks you should keep as a way of maintaining a high productivity rate while cutting down on costs.
Define how you will delegate the tasks
Hiring a VA isn't final. You need to make arrangements that will suit both of your schedules. So, in the whole process, make sure you involve your VA so that they know what you want from them and what they should expect from you. So, be clear on the following elements:
Task requirements
The appropriate deadline
The purpose of the task

Make sure you do a follow-up
Following up doesn't mean total control. However much you need to give your VA space and room to do their tasks appropriately, it is significant to check the progress at some times. Remember the follow-up should not be in excess as you should remember that working with a VA call for trust in both parties. As long as you have stated clear specifications and expectations and hired a professional VA, you should be assured of quality delivery but do a simple follow-up on the project, maybe once or twice, depending on the time frame required for the completion of the project.
Don't forget to rate your VA
Well, once you delegate your task and the VA delivers as required, your VA needs to know how they performed and if they met all your requirements and if you are satisfied. The rating helps to improve your working relationship as it fosters trust between the employer and the VA. Besides, the VA will feel appreciated, and the device means to work even better for the upcoming tasks.
Note: When two parties are working together, it is possible to get unsatisfactory results in the first place. However, with time, there will be improvements. So, when it is your first experience with the VA, always give room for some time if you feel the first results were unsatisfactory.
Your remote team or VA wants to know that their efforts and commitments add value to your business. You can simply thank them or leave feedback as a way of growing their profiles so that other potential clients get to consider them.
If you are in a better position, offer bonuses as well, and you can be sure to get the best from your VAs.
Well, your VA won't work in the same office as you. They are located in different places, and you can only rely on online technology to connect you. So, if you are using slack, Google Drive, Trello, zoom, or any other tool for communication, make sure your VA can access such tools and have adequate knowledge of using such tools. This will ensure a smooth run and timely delivery of projects.
One thing about virtual assistants is that they set time aside to focus on your tasks. They also use other resources like the internet to ensure maximum communication and delivery of high-quality tasks. After delivering the results, they expect compensation. Paying the VA on time is a way of creating a smooth working relationship.
Virtual assistants are people who take time to deliver their work, unlike machines that can do the same faster. Different tasks require different efforts. Therefore, as a hiring person, make sure you give your VA realistic deadlines that will not impose stress on them.
Conclusion
How smooth has your relationship with your VA been? Have you been enjoying a smooth collaboration, or have you been having a tough time working with your VA? Well, you might just need to implement some of the above tips, and with time, you will realize how comfortable it can be to collaborate with your VA.
Finally, to know more consider to connect with us!