A full-stack developer is a programmer who can work on both the front-end and back-end of a website. The full-stack developers will be kept up to speed on all phases of software development. This is referred to as full-stack development.
The full-stack developer is responsible for both the front-end and back-end development processes, so choosing the best full-stack web development companies to create your applications is crucial. As a result, we've compiled a list of the finest full-stack web development firms in India to help you improve your user experience.
What is a full-stack developer's role?
While many developers focus only on client-side or server-side development, full-stack programming entails developing both client and server-side code. The variety of a full-stack developer's work is one of the fascinating aspects.
It's self-evident that full-stack developers should have a thirst for knowledge since being a jack of all crafts demands constant upgrading of technical abilities. It is also essential to keep up to date on new development techniques, programming tools and trends in the business.
Where and how to locate the best full-stack developers in India?
The software sector has a tremendous effect on the world in which we live and is very important in determining our future. Additionally, it has created a breeding ground for entrepreneurial possibilities that everyone and everyone may exploit to get the most advantage from the market.
However, here lies the rub. Many individuals who have great software ideas lack coding expertise and therefore cannot bring their ideas to life. As a result, we decided to develop a brief checklist to assist everyone in locating the best IT men for their project. Here are some methods for locating and hiring full-stack engineers in India for your project.
Utilize your networks,  Solicit referrals from your friends, and make sure that someone you know knows where to locate and employ a full stack developer who is familiar with LAMP, MEAN, or another stack. Additionally, you may use LinkedIn to explore your friends' profiles; someone may be a full-stack developer eager to create your program from the ground up.
Utilize Facebook and Twitter to solicit suggestions for full-stack developers interested in a new project. Of course, a tweet may not seem like an ideal recruiting approach, but it may work very effectively in certain situations.
Looking through Freelance Platforms
Upwork, Fiverr, and Freelancer are important freelancing sites to consider when hiring full-stack developers, particularly in India. Upwork is perhaps the most prominent site, with more than 3 million job listings each year.
Before looking at freelancing sites, you should establish a budget for your software project. Then, you'll be able to filter applicants based on the pay expectations of full-stack engineers. When compared to employing in-house full-stack developers, the freelancing hourly rate of full-stack developers may help you save the lion's part of your budget.
Hiring  a software development firm 
There are hundreds of software development outsourcing organizations located around the globe. Three critical factors contribute to effective collaboration: skill, location, and money. Aalpha information systems is just a leading Indian-based company that may help you outsource your project.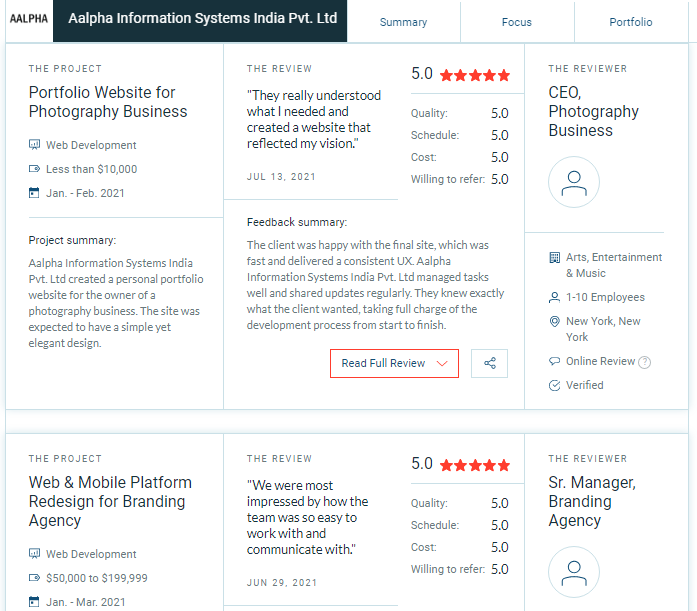 When it comes to recruiting full-stack engineers, it is also possible to consider IT staff augmentation. It's a nimble approach that enables rapid expansion of your workforce while also reducing administrative and legal headaches.
The Advantages of a Full-Stack Development
A full-stack development firm, such as SGS, lowers expenses by combining back-end and front-end operations.
Experienced Full Stack developers may split their work between design and programming as the flow dictates while maintaining flawless coordination between their efforts.
Professional Full Stack developers are very knowledgeable about the technology being used and can quickly identify the source of a problem.
The Complete Design Structure
One of the significant benefits of choosing a development company is that it works not only on the Internet at all levels on the whole design structure.
Multi-Technology Expertise
Full-stack developers may use this to build the back-end database, design the front end, add screen animations, and edit pictures in Photoshop, among other things.
A comprehensive understanding of the newest technologies and tools simplifies upgrading an application to its advanced level for a full-stack developer.
Wrapping Up
With time, full-stack development is expanding and gaining pace. Every company needs a specialist that can provide comprehensive development services from front-end to back-end. Therefore, customers seek full-stack development companies or employ full-stack developers proficient in all aspects of programming, from front-end to back-end.
As technology advances and spreads like wildfire, it is prudent to update to the most current innovations. Even though you are not a programmer, you may employ expert programmers to build your apps. Using the full-stack development firms in India listed above, you may begin building your application by employing full-stack developers.  
Looking for the full stack development company for your next project? feel free to contact us today!